Andrew Wan Wins DTD £150,000 January Deepstack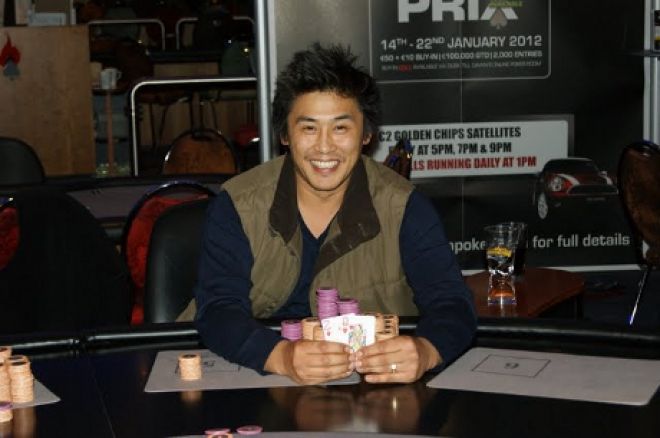 The Dusk Till Dawn poker club in Nottingham hosted its first Deepstack tournament of the year over the weekend, a £500 buy-in re-entry event that guaranteed a prize pool of at least £150,000. Despite the fact the PokerStars Caribbean Adventure and World Poker Tour Ireland were in full swing a massive crowd of 433 players descended on the Midlands creating a prize pool of £216,500, the lion's share of which is now in the bank account of Andrew Wan.
Day 1a saw a total of 149 players pass through the doors of which 47 managed to safely navigate their way through the barrage of bluffs, three-bets and other such poker related action without having to re-enter on Day 1b. The following day an even larger field of 284 players participated and only 78 of those ended the day with chip stacks intact.
These 125 surviving players returned to their seats for Day 2 knowing they would have to finish in the top 45 places in order to make the money but once they had cashed they would only be 44 players away from a massive £61.587.50 first place prize.
The money bubble burst at around 1545 on Sunday afternoon the unfortunate soul being Samir Khan. All Mr Khan took home was a number of bad beat stories, a round of applause and the knowledge that everyone else still in the tournament was now guaranteed to walk away with no less than £750 for their efforts.
One by one the players lost their chips and were sent to the rail and with each elimination the final table grew ever closer and the prize money increasing in significance. Then at just after 2135 Steve Fitzpatrick's


was no match for Frank Flanagan's


and the eight-handed final table was set.
DTD £150,000 January Deepstack Final Table
| Seat | Name | Chips |
| --- | --- | --- |
| 1 | Nick Hicks | 825,000 |
| 2 | Waheed Ashraf | 2,750,000 |
| 3 | Kyriacos Dionysiou | 2,140,000 |
| 4 | Frank Flanagan | 1,542,000 |
| 5 | Andrew Wan | 1,060,000 |
| 6 | Pete Linton | 3,333,000 |
| 7 | Maurice Nicholson | 754,000 |
| 8 | Shola Akindele | 840,000 |
The first player to be eliminated was Nick Hicks his


losing out to Wan's


when a jack appeared on the flop and literally minutes later Kyriacos Dionysiou's pocket eights were beaten by Pete Linton's ace-queen when the board ran out





.
Six became five when Maurice Nicholson made a move with


and Shola Akindele made the call with


. Her gutsy call was rewarded with an ace on the flop and when Nicholson could not go runner-runner he was busted out.
Akindele then became the fifth place finisher despite getting her chips in a substantial favourite, don't you just love poker? A preflop raising battle with Wan saw her all in with ace-queen to Wan's ace-jack but the latter spiked a jack to bust the last lady standing.
Fourth place money was worth £15,160 and that went to Linton when his lowly pocket fives managed to stay ahead of Waheed Ashraf's king-jack on flop but a Cowboy reared its ugly little head on the turn to put Ashraf in front. No two-outer on the river and the tournament was down to the final three players.
Ashraf was next to go, taking the tie to heads-up. According to the live updates on Blonde Poker, Wan raised to 500,000 with blinds at 60,000/120,000 and then called when Ashraf three-bet all in for 2,000,000. Wan turned over


and was up against


so a split was a real possibility but when the board ran out





Ahraf was sent to the rail, albeit with £21,603 to help numb the pain of missing out on the win.
As soon as Ashraf had left the tournament area Wan and Flanagan struck a deal that saw them both collect £45,000 with the winner taking home an additional £9,000. That extra cash was given to Wan after he ended Flanagan's tournament just before 0100 on Monday morning. Flanagan shoved for 4,900,000 with jack-nine and Wan looked him up with just queen-two. Wan's luck was certainly in because he made a straight by the turn to win the DTD £150,000 January Deepstack.
Navigating through such a talented field is no mean feat but Wan's story is actually quote incredible. The amateur usually played £20 tournaments with the occasional £50 entry but he won his seat to this particular tournament by reaching the final table of four £15-£30 buy-in tournaments at the Dusk Till Dawn club in their final table challenge! So Wan basically won £54,000 from a freeroll, amazing!
DTD £150,000 January Deepstack Final Table Results
| Position | Name | Chips |
| --- | --- | --- |
| 1 | Andrew Wan | £54,000 |
| 2 | Frank Flanagan | £45,000 |
| 3 | Waheed Ashraf | £21,603 |
| 4 | Pete Linton | £15,160 |
| 5 | Shola Akindele | £11,370 |
| 6 | Maurice Nicholson | £8,527.50 |
| 7 | Kyriacos Dionysiou | £6,632.50 |
| 8 | Nick Hicks | £4,737.50 |