Sky Poker UKOPS Xmas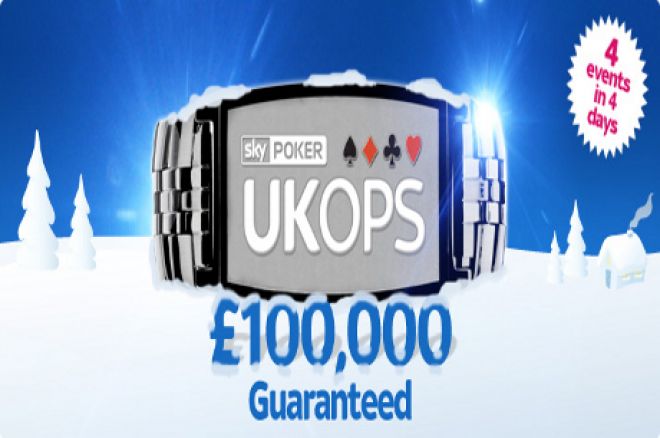 Sky Poker have announced their popular UK Online Poker Series (UKOPS) will return over the festive period, albeit in a slightly scaled down version of the hugely popular inaugural UKOPS. Instead of eight events the Xmas UKOPS will feature just four events but that is not to say they are not packed full to the brim with value, far from it.
Event #1 runs at 2000 UK time on Tuesday 27 December and is a £110 buy-in with one rebuy and one add-on. It carries a £15,000 guarantee and should be the perfect tournament to play whilst having your twelfth turkey sandwich of the week! The following day, at the same time, is the £10,000 guaranteed Double Stack event. Featuring a £110 buy-in, a 12-minute clock and 8,000 chip, the perfect accompaniment for yet another re-run of Only Fools and Horses!
The third event is another £110 buy-in tournament starting at 2000 UK time (spotting a trend here yet?) and is a £25,000 Bounty Hunter. This type of event is extremely popular on Sky Poker and I can tell you first hand the players love to go out of their way to claim a bounty even if it means jeopardising their chances of progressing in the actual tournament. Have a feast of fish instead of left over pork pie on Thursday 29th.
The fourth event is the UKOPS Xmas Main Event with a huge £50,000 guarantee slapped on its back for good measure. Like the previous three events this starts at 2000 UK time but the buy-in is £220 instead of £110.
If these buy-ins are you of your price range then satellites are running right now for a fraction of the cost, plus there are three side events running each and everyday at 2000, 2100 and 2200 with buy-ins ranging between £11 and £33.
| Date | Time | Event / Buy-in | Info |
| --- | --- | --- | --- |
| Tue 27 Dec | 2000 UK | Event #1 £110 buy-in £15k GTD, 1r1a | 4k chips 12-min blinds |
| Wed 28 Dec | 2000 UK | Event #2 £110 buy-in £10k Double Stack | 8k chips 12-min blinds |
| Thu 29 Dec | 2000 UK | Event #3 £110 buy-in £25k GTD Bounty Hunter | 4k chips 12-min blinds |
| Fri 30 Dec | 2000 UK | Event #4 £220 buy-in £50k GTD Main Event | 10k chips 15-min blinds |
Sky Poker TV are covering the UKOPS events live from Tuesday to Friday inclusive, 7pm to midnight. Guests include Carlo Citrone, Michelle Orpe, Jen Mason and Ian Woodley. It's on Sky Channel 865 or can be watched online and for free at www.skypoker.com.