APAT UK Open Championship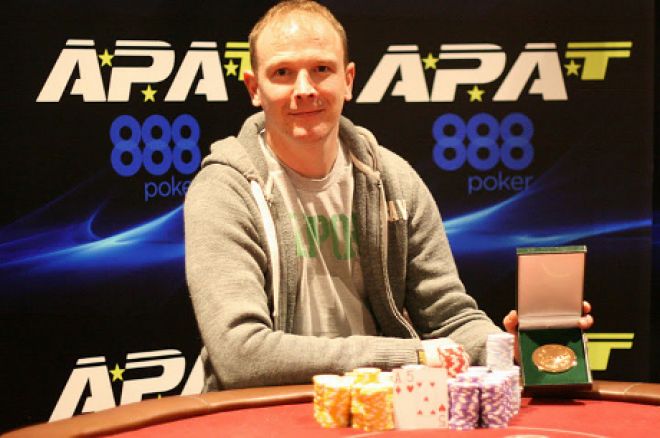 APAT held its UK Open event at the G Casino, Manchester over the weekend of 3rd-4th December. With a £100 buy-in and a 10,000 starting stack, 45 minute clock tournament APAT's recreational players were able to test their skills in an Open tournament against all-comers.
The 119 runners created a £11,900 prize pool including added value of a tournament entry from APAT to the winner. APAT members have the chance to win added value throughout a packed season of Live and Online National Championships and leagues.
Play in the early stages was fast and furious and players sought to build their stacks early. Zhang Yangran and John Anderson were way out at the head of affairs from the mid levels of the day, both amassing impressive stacks over double that of their nearest competitiors. APAT European Championship from earlier in 2011 Craig Dawson was their nearest challenger, playing consistently throughout a day that saw fewer players return for the second day than normal.
At the end of Day One 20 players remained with the chip leaders as follows:
| Position | Name | Chips |
| --- | --- | --- |
| 1 | John Anderson | 197,100 |
| 2 | Zhang Yangran | 186,200 |
| 3 | Craig Dawson | 79,250 |
| 4 | Adbul Hafeez | 79,200 |
| 5 | George Downie | 66,500 |
The field included two former APAT National Champions in Jason Jones and Charles Mason, with 13 players paid.
In the first level of Day Two Yanrain won a key pot to eliminate Dawson, ace-king versus pocket jacks all in pre-flop, to become an overwhelming chip-leader with over 300,000 and seventeen left. George Downie was the player who made the most progress on the run to the final table, winning a key pot with pocket aces against Mark Holliday's pocket queens and Alex Thompson's ace-king. He also accounted for Rob Painter on the bubble, ace-seven defeating pocket fours.
The final table line up was as follows:
| Seat | Name | Chips |
| --- | --- | --- |
| 1 | George Downie | 209,100 |
| 2 | Jason Talbot | 59,000 |
| 3 | Andrew Thompson | 123,200 |
| 4 | Adbul Hafeez | 69,300 |
| 5 | Jason Jones | 72,250 |
| 6 | Steve Harrison | 85,900 |
| 7 | Laura Pahomova | 101,800 |
| 8 | John Anderson | 210,700 |
| 9 | Zhang Yangran | 280,600 |
With blinds on the final table beginning at 1500-3000.
The final saw two early exits. On the first hand Jason Talbot took Pocket tens against John Anderson's ace-king, a king on the turn consigning him to a ninth place finish.
Jason Jones fell in eighth. His raise with pocket kings was called by Andrew Thompson with six-five in the blinds. Thompson flopped two pair and turned a full house to knock him out.
Two players were then knocked out on the same hand by Thompson. Steve Harrison limped with pocket kings, inviting action and looking for his double-up. Thompson and Abdul Hafeez completed and checked in the blinds. Incredibly Thompson flopped a set of eights, Hafeez a set of fives and both Harrison and Hafeez exited the competition.
The final kept delivering huge confrontations. Anderson raised with pocket aces and was called by Yangran with a suited ace. Yangran flopped the nut flush, and called flop, turn and a shove on the river to win a pot for over half the chips in play and knock Anderson out in fifth.
After a period of four handed play a key pot saw Yangran with kings run into Downie's aces. Pocket aces held and Downie won the 800,000 pot and took a commanding chip lead.
After hanging on for over a level Thompson then picked the wrong spot to shove, running into Laura Pahomova's Aces in the big blind with nine-four. He departed in fourth.
The three remaining competitors then concluded a deal that saw overwhelming chip leader Downie take the lion's share of the remaining prize money. He proceeded to knock out Pahamova in third, then Yangran heads up when Ace-five held against King-Seven.
So the winner of the 2011 APAT UK Open Championship was George Downie who won £3,300 and the APAT Champions gold medal.
APAT now moves on to the final event of its fifth season, the APAT European Amateur Championship at the Rendezvous Casino in Brighton in mid-January. For all the details of how to enter this and future APAT events and free membership of APAT visit www.apat.com
APAT UK Open Championships Final Table Payouts
| Position | Name | Payouts |
| --- | --- | --- |
| 1 | George Downie | £3,300 |
| 2 | Zhang Yangran | £2,185 |
| 3 | Laura Pahmova | £2,185 |
| 4 | Andrew Thompson | £980 |
| 5 | John Anderson | £775 |
| 6 | Steve Harrison | £595 |
| 7 | Abdul Hafeez | £475 |
| 8 | Jason Jones | £355 |
| 9 | Jason Talbot | £270 |