PartyPoker Weekly: World Domination, Pigeons, Aussie Millions and More!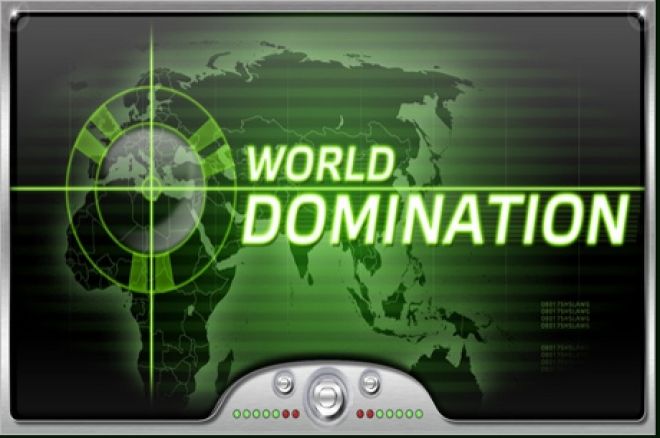 This week in the PartyPoker Weekly, we'll give you the details of the World Domination promotion, Luke Schwartz and his pigeons, Aussie Millions qualifiers, and more!
PartyPoker World Domination
The fantastic PartyPoker World Domination promotion is in full swing with players of all skill levels trying to outsmart their opponents and conquer cities all over the world! From now until midnight on December 31, or until all cities have been conquered, players will be awarded a city each time they earn just 10 PartyPoints.
Some cities, which are assigned at random, carry an instant prize with them for an added bonus ranging from a $1,000 Freeroll entry to $20 in cash, with prizes for conquering a country ranging from $75 and progressing all the way up to a bankroll-boosting $1,100!
However, the biggest prizes of them all are reserved for those who manage to conquer and entire continent! The minimum you can earn for this is a massive $2,000 and should anyone conquer the entire world and achieve World Domination they will scoop a staggering $100,000.
What are you waiting for? Get involved!
What Is A Pigeon?
At the recent PartyPoker Premier League Mixed Game Championship, won by Andy Frankenberger, Luke Schwartz kept referring to certain players being pigeons!
Tony G has been wondering, in his own words, "what the hell a pigeon is anyway." Although T G-Meister was seated with Schwartz during the Premier League, the pair never really clashed verbally but it seems Tony G is making up for lost time if his latest blog is anything to go by!
Speaking about Schwartz, Tony G questioned, "Is he not just a spoilt little rich kid playing the street angle far too much?" before adding, "Would he not be gone, gone , gone without his backers?" Whether that is true or not remains to be seen but Tony G has his fingers crossed that someone "crushes" Schwartz at the upcoming WPT Prague where Schwartz says he will play anyone in the world heads-up for if they put at least $50,000 on the line.
To discover what a pigeon is straight from Schwartz's mouth then check out Tony G's blog.
Aussie Millions Qualifiers Running Now!
The Aussie Millions is one of the most anticipated stops on the live poker calendar and thanks to PartyPoker you could be jetting off to the Southern Hemisphere for a fraction of the cost.
The Main Event runs between January 22-28, 2012 so you will need to hurry if you are to bag yourself one of the $16,000 packages on offer! Every day there is an Aussie Millions Freeroll where the top 25 players progress to the $2 Aussie Millions Sub Qualifier Speed Rebuy. In this tournament a seat to the $68+$6 Aussie Millions Satellite Qualifier is given away for every $74 in the prizepool and from here one in 10 will win a $640+$40 Aussie Millions Satellite seat where one in 15 players will walk away with a $16,000 Aussie Millions Package!
Each package consists of:
$11,400 Aussie Millions Main Event buy-in
Eight nights' accomodation at the Crown Promenade Hotel, which is right next to the Crown Casino where the Aussie Millions is taking place
$2,500 spending money
Satellites will be running right up to January 8 and we wish you the very best of luck in you quest to follow in the footsteps of Tyron Krost who qualified for the 2010 Aussie Millions Main Event on PartyPoker and went on to win the entire tournament for a cool A$2,000,000!
Get a Free Poker Bankroll
If you had a free $50 bankroll, you could start qualifying for WPT events and could even turn a small investment into millions of dollars at the Winter Million.
Thanks to the special relationship between PokerNews and PartyPoker, you can do just this when you cash in on a free $50 poker bankroll.
All players need to do is sign up for a PartyPoker account through PokerNews, and you will get an immediate free credit of $25 into your account. When 200 PartyPoints are earned, you will receive an additional $25! It really is that easy.
Wait to receive your first free $25 before doing anything else.
Earn 200 Points to redeem the extra $25.
To receive your free bankroll, head to our Free $50 No Deposit Page and use the bonus code UK50FREE as outlined in the walkthrough guide.
If you experience any problems with this or any of our promotions, please contact our Ticketed Promo Support System.