PartyPoker Weekly: Dominate the World, Tony G Holds Phil Hellmuth Twitter competition, and more!

Josh Bell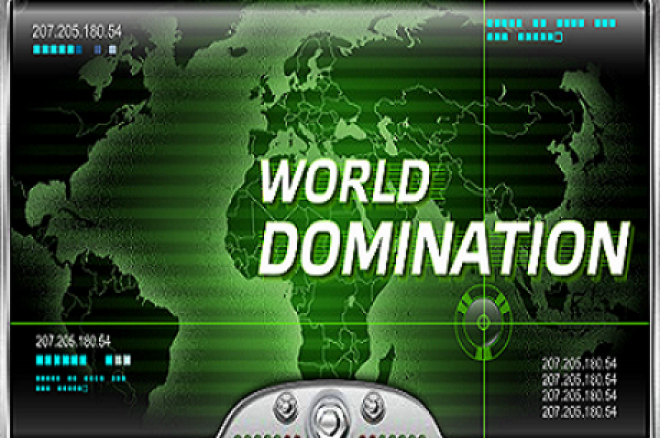 This week in the PartyPoker Weekly, we'll tell you all about the new 'World Domination' promotion, how to win WPT seats, how Tony G made fun of Phil Hellmuth… yet again, and more!
Achieve World Domination
Party Poker is giving players the chance to rule the planet this November and December as the exciting World Domination promotion is back. It really is going to be one of the most enjoyable promotions to run this year and one in which Tony G assures us makes him set for "total world annihilation!"
During the World Domination promotion, Party Poker is going to award thousands of dollars' worth of cash payouts, tournament seats and freeroll seats, along with giving players the chance to win a top prize of $100,000.
How to Dominate the World
In order to achieve world domination, all players have to do is earn Party Points between Nov. 7 and Dec. 32.
Every time a player earns 10 Party Points they will be randomly awarded 1 of 72 different cities from around the world. Most cities will also come with an award of a valuable instant prize but the big prizes are awarded if players can manage to conquer entire countries and continents.
The biggest prize is $100,000 and that is awarded to any player who manages to accumulate all 72 unique cities. You can get started now and conquer your first city for only 5 Party Points, so what are you waiting for?
Win World Poker Tour Seats
The World Poker Tour is currently in Amnéville and dozens of players made it to the exotic French location by winning a seat on Party Poker. While it's too late to head to Amnéville, it's not too late to win seats to many other WPT events around the world, including WPT Bohemia, WPT Prague and the WPT Five Diamond Classic.
The next stop on the WPT is the Czech Republic with WPT Bohemia set to kick off on Nov. 18. A tournament package worth $3,000 is now being awarded in the Party Poker client with Main Event buy-in, spending money and accommodation at Europe's largest poker room all taken care.
Taking place at the Corinthia Casino just a few weeks after the Bohemia event wraps up, WPT Prague is the newest addition to the World Poker Tour. The Main Event kicks off on Dec. 1 and the $5,000 buy-in event is sure to create a massive prize pool. A mix of qualifiers and satellites are now running with Party Poker awarding dozens of $7,500 tournament packages.
The World Poker Tour Five Diamond Classic continues to be one of the biggest events on the tournament calendar as hundreds of players descend upon the famous Bellagio Casino in Las Vegas every December. Several $14,000 tournament packages are now up for grabs at Party Poker as the $10,300 Main Event is again set to be one of the most prestigious tournaments of the year.
Tony G Makes Fun of Hellmuth's Twitter Shenanigans
Earlier in the week Tony G discussed how the BBC had given him the title of "world-class poker player" in an article they wrote about his plight against the Alderny Gambling Commision. Instead of taking the compliment, in typical Tony G style he saw this is a chance to needle Phil Hellmuth
If I was my good buddy Phil Hellmuth, last week would have been a career highlight for me and something I would have been shouting from the rooftops. I was interviewed by the BBC and they told the world what everybody already knows. I am a world-class poker player." Tony G said on his blog
Tony G went on to give some humorous suggestions as to what Phil Hellmuth's Twitter feed may have looked like had the BBC said the same thing about him.
@phil_hellmuth: "It's official – the BBC put out a press release saying what everyone knows – I am world class."
@phil_hellmuth "Having dinner with Hilary Swank, Slash and a group of Texan billionaires and managed to find five minutes in my schedule for BBC – they just wanted an autograph."
Tony G is now holding a competition in the comments section of his blog to see who can come up with the best Hellmuth Twitter impression. A cash prize is up for grabs for Tony G's favorite!
Don't Forget You're Free $50 Bankroll
Remember that because of the special relationship between PokerNews and Party Poker, you can receive a free $50 poker bankroll.
In order to claim your free bankroll all you have to do is sign up for a PartyPoker account through PokerNews and you will get an immediate free credit of $25. To complete the process and receive the rest of your bankroll you will simply need to earn 200 PartyPoints.
Wait to receive your first free $25 before doing anything else.
Earn 200 Points to redeem the extra $25.
Make sure you head over to our Free $50 No Deposit Page and use the bonus code UK50FREE as outlined in the walkthrough guide and get on your way to receiving a free $50 bankroll
If you experience any problems with this or any of our promotions, please contact our Ticketed Promo Support System.