Conquer the World at PartyPoker and Win $100,000

Josh Bell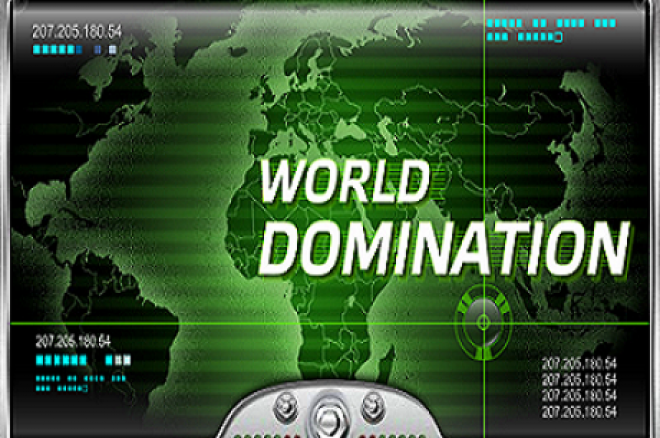 Download Party Poker and start taking over the world for your chance at huge cash prizes!
Dominate the World
This November and December sees the exciting World Domination promotion return to Party Poker as players are invited to take over the world, one city at a time.
During this World Domination period, Party Poker is going to award thousands of dollars' worth of cash payouts and freeroll tournament seats, while also giving the players a chance to challenge for a massive $100,000 top prize!
Taking over the World
In order to achieve world domination and take down the cash prizes, all players must do is earn Party Points between Nov. 7 and Dec. 32.
Each time a player earns 10 Party Points they will be randomly awarded 1 of 72 different cities from around the world. They will now have dominated that city and are encouraged to keep earning Party Points and taking over more and more cities. Players are able to be awarded the same city more than once and some cities will be harder to capture than others.
Most cities will also award an instant prize but the biggest prizes are awarded to players if they manage to conquer entire countries and continents. The $100,000 is what all players should be aiming for and that is awarded to anybody who manages to accumulate all 72 unique cities.
Most cities will award an instant prize or at the very least a freeroll ticket, while each continent and country has a different prize value. For example, if you conquer all four cities in England, you will be awarded an instant prize of $1,500! In addition to this, if you then go on to claim each and every country in Europe, you will be awarded a massive $20,000 and be well on your way to winning the $100,000 that goes along with achieving world domination!
Players can get started right now and earn their first city for only 5 Party Points, so make sure you head over to Party Poker and start taking over the world!
To make it even easier to dominate the world, be sure to take advantage of the special relationship between PokerNews and Party Poker by receiving a free $50 bankroll.
In order to receive your free bankroll, all you have to do is sign up for a PartyPoker account through PokerNews and wait for your immediate free credit of $25. Once you receive the $25, head to the tables and earn 200 Party Points, whereby you will then be awarded an additional $25!
This means that you will have earned 20 countries in the World Domination promotion while also receiving your free bankroll! What are you waiting for?
Make sure you head over to our Free $50 No Deposit Page and use the bonus code UK50FREE as outlined in the walkthrough guidel
If you experience any problems with this or any of our promotions, please contact our Ticketed Promo Support System.