Black Belt Nottingham Live Sells Out At Dusk Till Dawn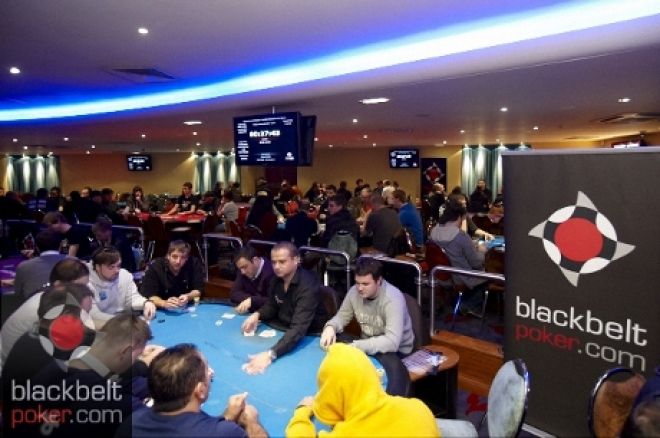 The Dusk Till Dawn Poker Club in Nottingham is the venue for the inaugural Blackbelt Poker Live tournament and Neil Channing and Co have to be commended as their very first event has not only sold out but also attracted some of the biggest names in the business.
For their $125 entry fee, players receive 15,000 tournament chips and an excellent blind structure that increases every 40-minutes. Yesterday saw 241 players register, just shy of a sell out, and Day 1b, which kicks off this afternoon, is completely sold out! This means a massive $61,375 prizepool has been created, a fantastic result for the Blackbelt Poker team.
Of the 241 players who started Day 1a, only 56 of them have made it through to Sunday's Day 2 and they are being lead by Thomas Ambler who will return to the felt with a rather impressive stack of 266,600 chips, over 110,000 more than his nearest rival Tim Slater.
Amongst the 241 entrants were 11 bounties but amazingly not a single one of them made it through with chip stacks intact! Today sees the likes of Neil Channing, legendary blogger Adam "Snoopy" Goulding, Sam Razavi and the latest addition to the PKR team, Jake Cody all go into battle with a bounty on their heads, whoever scalps them wins back their entry fee.
All the action can be found on the Blackbelt Poker blog an we will bring you an update of the action on these very pages in the morning! Good luck to everyone playing today, as Mike Sexton would say, may your outs be live and your pots be monsters!
One of today's bounties, Jake Cody, has just signed up with PKR as a sponsored pro. To play against Cody and earn a first deposit bonus of up to $800, download PKR through PokerNews and enter the bonus code UKPN800