2011 PokerStars.com European Poker Tour Loutraki Day 1a: Herold Leads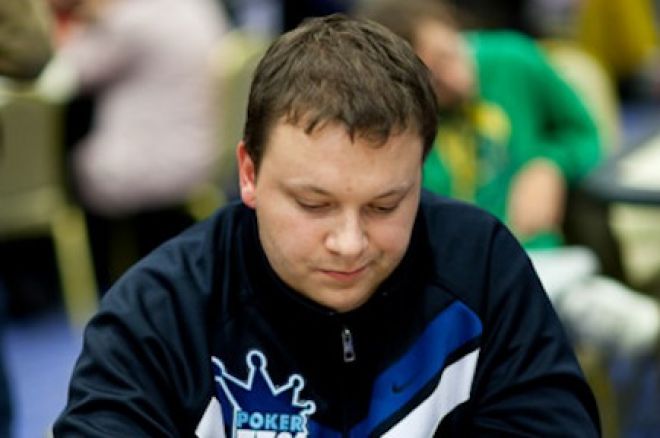 The European Poker Tour and PokerStars.com drove their red spades deep into the sandy beach of a new country on Tuesday. Greece's Club Hotel Casino Loutraki, which sits on the edge of the east coast of the Gulf of Corinth, hosted Europe's premier poker tournament in its inaugural EPT event. In this production of Greece, there was no Danny Zuko or Sandy Olsen; however, there were 145 entrants, who each paid €4,400 to participate. At the end of Day 1a, Germany's Julian Herold held the chip lead with 138,425.
Herold plowed his furrow at the same table as former EPT Champion Roberto Romanello for most of the day. He came to prominence early in Level 2 after hitting the nut flush on the turn, and before he had time to lick his lips, his opponent had moved all-in for an ill-timed, random bluff. Herold quickly called and doubled his stack.
In Level 6, Herold was seated in the big blind and action was three-handed on a flop of



. Herold was holding the stone-cold nuts


. A raising war on the flop removed Jason Wheeler from the equation and when the dealer turned the

, the rest of the chips went into the middle. The two guys scrapping for their lives were Emmanoyil Martorakis and Herold. The latter faded the spade and was up to a tournament high of 155,000.
The wind swirled off the Aegean and whipped up a frenzy of early action on the tournament floor. Chips were flying person to person. The first player to capitalize was former EPT champion Kent Lundmark. Paul Ribaud somehow managed to get all of his money into the middle holding


in the very first level of the day.
Lundmark held


and shortly after was stacking 60,000 chips. He wasn't the only former EPT champion who was handed chips on a silver platter. Roberto Romanello also doubled up early, in Level 2. In the end it was a good day for former EPT champions. Five of them began, and five of them finished with Kent Lundmark (31,100), Roberto Romanello (21,300), David Vamplew (34,050), Mats Gavatin (45,775) and Rupert Elder (82,700) all making it through to Day 2.
It may have been a good day for former EPT Champions but it was not a good day for PokerStars Team Pros. Richard Toth, Marcin Horecki and Ana Marquez were the only representatives on Day 1a, and only Marquez bagged up chips at the final whistle (41,475).
Among the 102 players who made it through to Day 2 were Mclean Karr (103,100), Roman Makhlin (102,100), Jason Wheeler (75,325), Steve O'Dwyer (66,250), David Peters (63,950) and Chris Moorman (39,350).
Day 1b will kick off on Wednesday at 1200 EET so make sure you join Pokernews for all of the action.
Follow PokerNews on Twitter for up-to-the-minute news.