2011 PokerStars.it EPT San Remo Day 1a: Gianluca Trebbi Leads

Eric Ramsey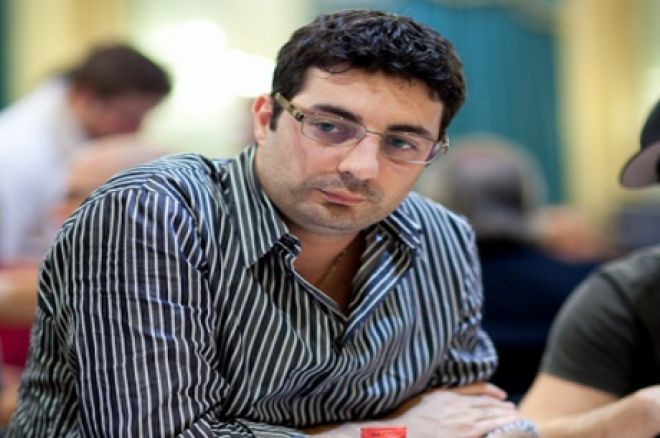 Today was Day 1a of the PokerStars.it EPT San Remo, and 359 players turned up to the casino with the requisite €4,900 in hand. When play concluded for the night, just over 200 of them remained, and Gianluca Trebbi was the one holding the biggest stack with 159,600. He's trailed very nearly by Massimiliano Forti and his 159,100.
While most of the Team PokerStars Pros are slated to play Day 1b, a smattering did turn up for what figures to be the smaller and softer of the two flights. Things did not go well for Marcin Horecki, Arnaud Mattern, Daniel Negreanu and Jason Mercier, and all three of them were run out before their dinner break. Victor Ramdin and Vanessa Rousso were both short at times today, but only one of them survived to bag up chips at night's end. Ramdin is out, while the lady bagged up 33,100. The other Pros returning on Day 2 are John Duthie and Lex Veldhuis.
San Remo is perennially one of the favorite EPT stops among the regulars, partially because of the ruthless and exploitable style in which many of the locals play. And indeed, there were an inordinate number of unusual plays over the course of the early action. In a three-way pot, Luca Cainelli essentially bluffed his tournament away in the second level, and Massimiliano Martinez was in no mood to mess around, either. He made a big, bad call on the turn with just ace-king high to double Govert Metaal, and a short time later, he six-bet jammed on Kevin MacPhee with just


. MacPhee had two kings, and the knockout allowed him to become the first in the room to amass a power stack. He finished the day on a bit of a slide, but he still has 99,200 to return to in a couple days.
MacPhee and the rest of the survivors can soak up the fantastic weather tomorrow while a new batch of players takes their seats inside. Day 1b is slated for the same 14:00 CET start time, and we figure to add at least another 400 players to the total field — possibly even closer to 500.