Joeri Zandvliet Wins Second UKIPT Title in Dublin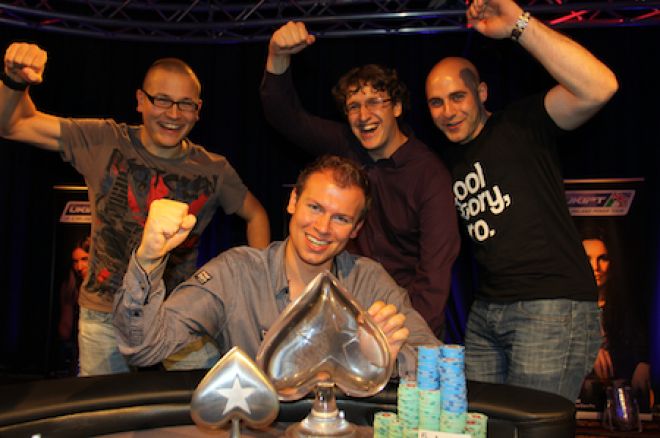 Joeri Zandvliet has won the UKIPT Dublin Main Event, his second title on the 2-year-old tour. This gives him an incredible two wins out of six UKIPT events played. HIs second title ties him with Nick Abou Risk, something fellow finalist (and eventual 4th place finisher) Max Silver had also been aiming for.
Runner up was Chuck Fabian, at the sharp end of the young Dutchman's end-game run of luck, as was 3rd place finisher Robert Csire. The final table overall, however, was one of the friendliest and most obviously delighted to be there of any on the tour; aggression was limited to the chips moving across the felt.
Of his experience at the Dublin Main Event, Zandvliet said, "It's ridiculous to win a second time. It's like a four day marathon…and then you win at some point." That has indeed been his experience.
The UKIPT Dublin €500 Main Event brought 718 players to the Ballsbridge Inn, Dublin, from the 8th-12th September. The total prizepool was €348,230, divided amongst the 90 top finishers.
1st: Joeri Zandvliet, Netherlands, PokerStars Qualifier, €83,500
2nd: Chuck Fabian, USA, €49,600
3rd: Robert Csire, Hungary, €30,700
4th: Max Silver, United Kingdom, €22,650
5th: Jason Tompkins, Ireland, PokerStars player, €17,600
6th: Noel O'Brien, Ireland, €13,950
7th: Rory Curtis, United Kingdom, €10,450
8th: David Docherty, United Kingdom, €8,000
9th: Michael White, United Kingdom, PokerStars Qualifier, €5,565
You can qualify for future legs of the UK & Ireland Poker Tour exclusively at PokerStars. If you join PokerStars through PokerNews, you will also be eligible for our exclusive $20,000 Freeroll Series this month.