Gonzo Poker With Lee Davy – Late Night Poker Part 3

Lee Davy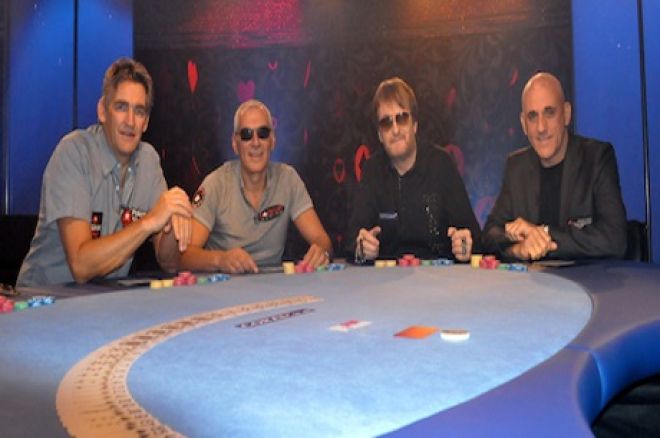 My first experience of Late Night Poker ended in a nice way. The Presentables crew supplied free beer for everyone in the green room and once again it was a great touch. The atmosphere was amazing with Liv Boeree and Kevin MacPhee cuddling up on one couch and the likes of Roberto Romanello and Andrew Feldman screwing around on the other (not sexually of course, we are all aware of Robbie's penchant for a piece of sheep). The history of the show is visibly evident, as if it is floating around in the air, everyone can feel it and I haven't experienced anything like it at an event before.
On the second day I get up early and the first person I see is the Devilfish.
"Hi Dave, I am Lee Davy. I was wondering if I could grab a few minutes of your time for an article I am writing for WPT Magazine."
"Fuck off kid."
I head outside to the area I had christened the James and Vicky Smoking corner where I find Peter Costa also puffing on the little heart stoppers. I introduce myself to him but he laughs, hugs me and tells me he knows me anyway. Then I remember him once sending me a Facebook message telling me how much he liked my articles. I was feeling pretty proud of myself until he started calling me Davy! I wouldn't mind but I don't even know if Davy is a real Christian name! Costa was old school and a wonderfully charming man with a great accent. He has been living in Las Vegas for the past seven years - and is still alive - so he is a living legend in my book. He is also one of four former champions of Late Night Poker scheduled to play in the same heat, which is going to be fun.
Simon Trumper is hanging around nervously outside. Again I have never spoken to Tumper but know of him. He always struck me as a right hard looking bastard and he fits right into the gnarly character imagery that Late Night Poker created back in the first six series. After interviewing him I could tell that this is a very important tournament for him and the need to be the only ever two-time champion was very strong.
With the Devilfish walking around playing his harmonica and smacking Vicky Coren's bum I decided to grab a few words with Toby Lewis and Matt Perrins. It was going to be interesting to watch the heat with the distinctly different sets of classes. On one side of the table you would have Duthie, Costa, Devilfish and Trumper and on the other end Holden, Lewis and Perrins. To coin a phrase from the series producer Sian Lloyd it was like the old warhorses versus the young Internet wizards. Both players knew about the history of Late Night Poker but only Pez really remembered watching it (I think he is two years older than Lewis). A little later on, the Devilfish told Pez that he reminded him of himself when he was that age - something I will never let Matt "The Pezfish" Perrins ever forget about. Just before the heat started one of the crew got out a box and asked the players to put their mobile phones in there until the heat had finished.
"But how are the boys going to ring their Mums without them?" Asked the Devilfish.
I tried grabbing a word with Mr. Big, John Duthie but it was pissing down outside and I couldn't get him away from the James and Vicky smoking corner long enough to ask him some questions. So instead I had a chat with the Scottish Internet qualifier George Stewart who was a warehouse manager for Tesco's and was beaming with joy. He was so proud to be here and it was nice to see. I asked him who his favourite player was and he said it was the Devilfish. He said he was hoping he would get to shake his hand but was a little worried because he saw him telling me to fuck off earlier.
The next person to share the Davy couch was Sam Holden. The young November Niner had caused me all sorts of problems when The Sun ran an article on him and my Mum said to me, "you said you can do anything you put your mind to, so why can't you win a million dollars like this kid?"
Sam Holden is a remarkable young lad. Not only is he going to be a very famous poker player now he has made the November Nine but he is also an ace when it comes to fancy dress parties. He has the parts of Steve McManaman and Shaggy from Scooby Doo down to a fine art. He was a very rounded and well-spoken young man and I think the poker world will see big things from him in the future. The November Niners all seem to go on an incredible heater in between July and November and I don't think Steve McManaman will be any different.
Last but not least the Devilfish finally found time to sit next to me and have a chat. In between all of his jokes, one-liners and banter there is a real person who is actually really interesting and pleasant to speak to. The Devilfish ran the show on that day, just like he has ran every other show for the previous nine series. I have heard some of the young poker players say they think he is a bit of a prick. Everyone has the right to speak their mind but I just hope that they realise that it is thanks to that prick that they are able to do what they do today. Dave "The Devilfish" Ulliot is a pioneer and one of the characters in poker who made IT work on TV. Luckily poker is a little like WWE Wrestling - Peter Pan like and ageless. I think we will see The Devilfish, his rings and his harmonica just as long as we have seen Hulk Hogan drop that famous leg drop. And we are lucky that he is still around because apart from the likes of Luke Schwartz and Romanello I can't see where the next group of gnarly, funny group of pricks are going to come from and shows like Late Night Poker need them.
Read Part 1 Here
Read Part 2 Here
Lee Davy can be reached at lee.davy@btopenworld.com or through his website. You can also follow him on Twitter