Gonzo Poker With Lee Davy - Late Night Poker Part 2

Lee Davy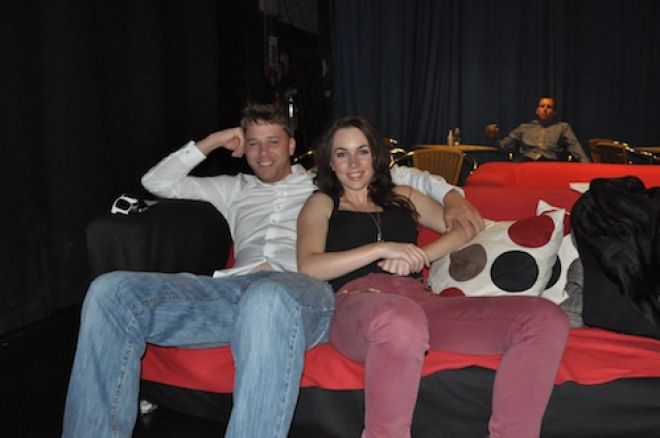 I am sat in the green room watching Heat One when one-by-one the players for the second heat started to turn up. The Production Company that created Late Night Poker and continues to run the show is called Presentable. As the first heat finishes they are arranging cars to take the players back to their hotel. The players involved in the second heat are all arriving in cars arranged by the team at Presentable. The food being dished out by the caterers is simply stunning. The variety is second to none and there are wonderful little touches everywhere such as the superb collection of biscuits, little chocolate sweets and more varieties of tea than you would find in a teashop. When it comes to looking after poker players organisations around the world can learn a thing or two from Presentable.
Kevin MacPhee has been sat behind me for a few hours now. He is dressed quite dapper in a nicely ironed white shirt (ironed shirts are a bit of a rarity in the world of poker). He is there to watch his girlfriend Liv Boeree (no problem paying the mortgage between those two). And he is also playing in the next heat. I have never spoken to him before but my girlfriend knows him and has told me that he is a great bloke. I use the girlfriend angle and start talking to him and he becomes my first interview of the second heat. I really liked the guy and he fell into the 99.9% bracket of poker players who are down to earth and friendly. Next to arrive in the black and red room - called the green room - was Barny Boatman. The Hendon Mob and Late Night Poker are like Fillet Steak and English Mustard and Boatman has played in about seven of these things in total. After finally getting through the crowd of Presentable employees all wanting to either shake his hand or kiss him, he sits down on the couch opposite me. As he looks around he catches my eye and throws me a wave. I am sure he is thinking to himself, "Why is Johnny Fucking Chan here?" Next to arrive is Roberto Romanello and he comes straight over to ask me how things are going. I have gotten to know Robbie quite well since I started this job (I mean look at me – I even call him Robbie for fucks sake). For a while our conversation is a little bit like the scene in the classic movie Airplane where Stryker is telling everyone about his relationship problems and they each commit Hara-Kiri. I am plowing my divorce story into his ear and after doing his Dear Deirdre touch, and obviously fearing for his life, he moves away from me and joins Boatman on the other couch.
After about 30-minutes I sit down in between them both and ask them if I can ask them some questions about Late Night Poker. Robbie agrees but Barny asked me if he could do it later, which was fine and understandable. After those interviews I found David Vamplew flying around outside on his broomstick. He parked it up and placed an invisible spell on it (well we were in Splott) and I grabbed him quickly for an interview. Vamps, was one of the earliest poker players I ever interviewed when I started out in this game and at the time I thought he was really quiet. Since then I have gotten to know him quite well and I think he is a great wee Scot and good company. I will always remember when he made the final table at WPT Venice. The Italian media were going nuts about him and everywhere you walked in that casino you could hear people talking in Italian and the words "Harry Potter" were in every sentence. It was a nice little interview and he was actually the one youngster who was really absorbed in the history of Late Night Poker and even told me that he was a little nervous. This was my last question to Vamps.
"John Eames is ranked number 22 in the GPI. He is the top ranked UK player in the world and hasn't been invited. Why do you think this is?"
"Well maybe he should try winning something!" I assume he had placed a hard as fuck spell on himself.
Vamps glided his way through the studio and into make up like he had been here a thousand times before which is strange because I am sure the Potter movies were filmed somewhere else. The first heat had finished and Akenhead and Coren were getting as many fags down their throat as they could before they had to go back for heat two. Luke Schwartz was playing Chinese poker with Roberto Romanello. There were a few twenty-pound notes in the middle of the pub bench and Andrew Feldman was stood behind them playing with his mobile phone. Then Jungleman came out of make up and sat down on the bench.
"Roberto. Can I buy you out of this game for twenty quid so me and Dan can play for some real money?" Asked Schwartz.
Roberto stood up took away his winnings and the Jungleman sat down. It was the first time I had seen him and he didn't look too much like a Jungleman with his face covered in blusher. I just stared at him wondering why he didn't just call himself Tarzan? I later learned that Mr. Cates could be a little hot around the head at times, especially when losing money to people like Luke, something that happened a lot in those two days. I never got my five minutes of fame with the man who shagged Jane.
The next person I had to find was the online qualifier Adam Noone. Incredibly Noone had nearly become a millionaire after winning the Full Tilt millionaire challenge a few years back. He knew me through my writing on the Hendon Mob and he was a nice bloke. He told me how he had won the live million pound tournament and then had to beat Phil Ivey, Chris Ferguson and Roland De Wolfe heads-up to win one million pound. He defeated Ivey then Ferguson and in what turned out to be a £750,000 flip his Ah5x lost to the Qhxh of De Wolfe. All the money went in pre flop and De Wolfe made his flush on the turn. Just goes to show that poker is so fickle that pros cannot even throw a match in order to allow a qualifier to win a million quid! Just imagine being involved in a £750,000 flip? (He had already won £250,000 for his efforts) That is why this game is so magical and brutal at the same time (a little bit like a marriage).
Next up was Schwartz but he was too busy raping the Jungleman and we both agreed that I was just –EV at this time so I left him alone. Schwartz is absolute class for me. He just looks like your standard kid who fucked about in school, got D grades in everything and couldn't give a monkeys (whoops don't tell Jungleman about the monkeys). The first time I met him was in EPT Vienna when he caused Thomas Kremser a problem or two because he got a $1k chip stuck in his bottle of beer. Then with the announcement of one more hand I watched in stitches as Schwartz convinced everyone on his table to all bet $10k blind when the blinds were 500/1000 and everyone did it and then complained about it afterwards. The guy is an absolute star of the future and the number one TV prospect out of the current bunch of young superstars.
So I had seen everyone except for Weisner. Melanie was someone I hadn't spoken to but had seen in a lot of places. I tried looking for her everywhere and was starting to think Vamps had turned her into a cat when I noticed she was in make up. Instead I went back to the set and started taking photographs of the players.
"Where is the girl?" Asked Schwartz.
"In make up," said one of the crew.
"Well go and get her then. We were dragged away from our Chinese game. Go and get the girl." Said Schwartz.
Man you gotta love that guy.
Lee Davy can be reached at lee.davy@btopenworld.com or through his website, www.leedavy.co.uk. You can follow him on Twitter at @chingster23.