Gonzo Poker With Lee Davy - Late Night Poker Part 1

Lee Davy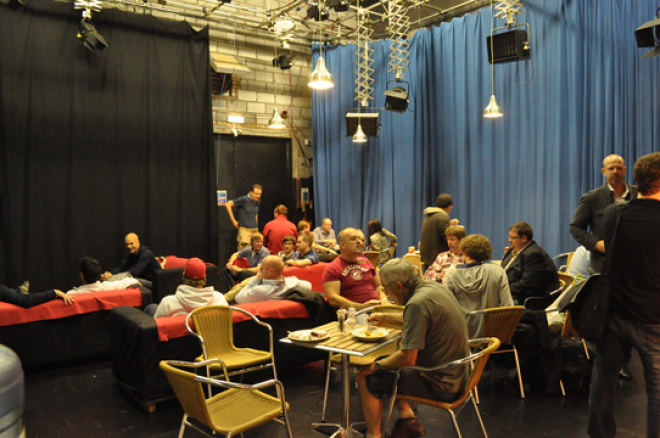 The last few months have been a whirlwind of excess. After the inevitable outpouring of cash that Las Vegas instills in you I returned to the shores of the UK and turned into Egon Ronay and again the fault lay with Las Vegas. During the World Series of Poker (WSOP) I spent more time dining in top restaurants than I did playing. My rather fortunate streak of continual winning sessions in credit card roulette allowing me the opportunity to pretend to be loaded. I found it difficult to settle back in to the UK way of life after six weeks of debauchery and so I decided fuck it. I will continue to party and would just pretend I was still in Las Vegas. So I closed my eyes and imagined that Wigan, Southport and Ogmore Vale was Jaleo, Naked Fish and Koi and enjoyably did my bollocks.
It all had to end at some point and on my train ride back to the Valleys I was sat wondering how I was going to fill my bank vault back up with cash when I received an e-mail from the Editor of WPT Poker Magazine Mr Jon Young. Young wanted me to head down to Cardiff where the heats of Late Night Poker were being filmed so I could write a piece about the history of the show. Working for WPT Poker Magazine was a new work stream and one I had been trying to swim into since I left the railways. So happy as Larry I jumped into my little Mini Cooper and headed for Enfy studios in Cardiff.
I had never been to a television studio before and was confused because the address said Enfys Studios were on an Industrial Estate in Splott. I had lived in South Wales for 24-years so how had I not noticed a giant television studio on an industrial estate in Splott? When I eventually found it I realised why I had missed it in the past. Enfys studios are no bigger than the shed in my Dads garden that contains fresh air and a spade to throw the dog shit from the grass and into the river. I parked up, grabbed my rucksack and headed into the shed. Outside of the studio were a few benches of the type you would find in a beer garden and there was what looked like a burger van. I later realised the burger van was actually the food catering truck so I saved a few blushes by not asking them for a quarter pounder with cheese.
Vicky Coren was standing outside talking to another lady I later learned was called Megan. I could hear her rather posh voice blurting out streams of words in between sucks and puffs of smoke. James Akenhead was walking around behind her. He was also killing himself slowly, only stopping to flick the ash from the tip and to continue playing on his mobile phone. I had never talked to Vicky before so I made a beeline to James who I had met during WPT Bratislava. He shook my hand and said hello before returning to his game.
"Sluice," I said pointing to the array of letters on the bottom of his mobile.
"Top man," said Akenhead.
I walked into the studio and the first person I saw was a young woman with a set of cans on her head who was holding a clip board. If she wasn't part of the production team I would let the next girl I slept with put her finger up my bum and poke around to find that magic gland everyone tells me about. I introduced myself to her, and my anal canal remained un-penetrated, as she told me she worked as part of the production team. She showed me where the green room was and a young lad, who was a runner, made me a cup of tea. I looked around the green room, which was black and red and not green at all, and there were about 50% of people I knew. I decided to start grabbing some of the players and I took them outside for a five minute chat about LNP. I would record the conversations and use the material to write my article.
The first person I grabbed was Ross Boatman. I told him that I wrote for the Hendon Mob website (something I say to all of the Mobsters) and he said he recognised me which of course was a lie. I remember the first time I saw Barny Boatman at EPT Vienna. I was so sure that he would know me because I wrote on the Hendon Mob website so I introduced myself to him and he kept calling me Davy all day. The next day he stopped calling me Davy which was a relief until he started calling me Daniel instead. I prefer it when people call me kid or oh you instead of guessing. And where the fuck does Daniel come from anyway? Surely I look more like a Bruce or a Jackie than a Daniel?
I met James Dempsey for the first time and the lad is a live wire. He is very good fun to be around, always full of jokes and taking the piss out of his mates. He also comes in handy if you need to touch up your make up at the last minute because you can use his head as a mirror. Dempsey was having a chinwag with John Tabatabai. I love John Tabatabai but just wish he would have a sex change and get married because I hate typing Tabatabai all of the time. Fuck it…I will call him Tabby for short. Tabby is just too sharp and too handsome. He also has a bigger entourage than Nelly. There are so many people around him it is ridiculous, including this huge, your gonna get your fucking head kicked in type of bloke called…get this…Chuckles! Tabby always looks as though he could open a chain of stores where he teaches young lads how to dress, walk and talk so they can sleep with sexy sirens. Maybe that is why he keeps getting knocked out of Late Night Poker heats so early, the lad just has bigger things on his mind.
Padraig Parkinson was there and incredibly he was drinking a cup of tea but I couldn't find Liv Boeree, Andrew Feldman or Richard Ashby so I decided to find the Internet qualifier Luke Davies. Have you ever tried finding an unknown online qualifier in a room of people you don't know and have never met? Well it is incredibly easy. Just find the kid wearing a baseball cap and dressed like a Scouser and you have him. To be fair to Luke it wasn't as if he was going to appear on TV, on one of the most prestigious TV tournaments in the world, for his first ever time, to try and earn $150,000. A TV shows his Mum, Dad and all of his friends and family would proudly watch…how I forgot…he was!
Thank God for Liv Boeree who doesn't even use transport to get to events like this. She is so sexy, gorgeous and incredibly talented that she beamed herself right into the middle of the set just like that other vixen Uhura. Boeree was dressed to kill, looking stunning and obviously got the memo telling her that the whole world was watching, the one that Davies obviously didn't receive.
One last quick glance around the green room - that wasn't green - and I found Chufty, who wasn't looking very Chufty at all. Rumour had it that the soon to be Prime Minister (according to Channing) had prepared for this event like a true pro, he had played cash games in London all night and caught the first train down to Gods country without having any kip for 24-hrs. To say his interview was short and sweet is a little understated.
That left Feldman. I had met Feldman in WPT Bratislava and I could tell he was like marmite, but I liked him. I said hello, wished him good luck and off he trotted to play. He was excited and full of enthusiasm after his recent GUKPT Luton final table. That excitement began to fade as he sat down at the table and began riffling his chips.
"So why does everyone hate you then?" Came a voice from one of the players at the table.
Lee Davy can be reached at lee.davy@btopenworld.com or through his website, www.leedavy.co.uk. You can follow him on Twitter at @chingster23.