EPT London Kicks Off Today!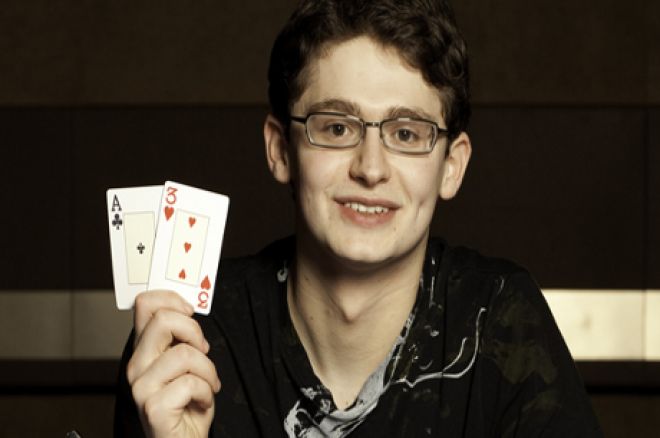 One of the most eagerly anticipated poker festivals of the year kicks off tomorrow at the Hilton London Metropole, we are of course talking about the London leg of the European Poker Tour, brought to you by PokerStars.com
Running between September 29 and October 6, EPT London boasts 31 events, though most of the focus will be on the £5,250 Main Event that begins on September 30. Last year the Main Event attracted 848 players and was won by Scotland's David Vamplew (pictured above with his winning hand) after defeated a star-studded final table, including beating John Juanda heads up to scoop the title and the £900,000 first place prize. Attendances in UK-based tournaments have been on the rise of late and it will be interesting to see if the EPT London Main Event can attract 1,000 runners this year.
Along with the 31 events being run at the Hilton there is also going to be a number of satellites and cash games taking place at the nearby Grosvenor Victoria Casino, located on the same road as the Hilton (Edgware Road.) The General manager of The Vic, Martin Ramskill, said "We are all looking forward to another fabulous EPT London in conjunction with the Grosvenor Victoria Casino. As always we welcome all players to the 24/7 cash games in the Vic Poker Room. Courtesy cars will run between venues continuously for players' convenience."
Although the Main Event will be the tournament that captivates the audience, there are some other fantastic events dotted around the schedule, including the £550 Women's Event, a £5,250 Heads-Up event, a £2,150 8-Game European Championship and the £20,500 High Roller event, the latter is sure attract some of the best poker players in the world.
Time is running out to join PokerStars Team Pros Daniel Negreanu, Viktor Blom, Bertrand "ElkY" Grospellier, Liv Boeree and Jason Mercier but tonight (Wednesday) at 19:25 British Summer Time there is a £525 2X Chance Qualifier on PokerStars that is guaranteeing 10 packages to the EPT London Main Event.
If you are not already the proud owner of PokerStars account then why not download PokerStars through PokerNews and make yourself eligible for a 100% match bonus of up to $600. To make sure you are eligible for any future exclusive promotions ensure you enter the bonus code UKPOKERNEWS.
See you in London town!
A list of the events being held at the Hilton London Metropole.
| Date | Time | Tournament | Buy-in |
| --- | --- | --- | --- |
| Thursday 29 September | 12:00 | NLHE - Day 1 | £1,000+£100 |
| | 15:00 | 5-Card PLO 8-or-Better | £500+£50 |
| | 20:00 | FNLHE Turbo | £300+£30 |
| | | | |
| Friday 30 September | 12:00 | Main Event Day 1a | £5,000+£250 |
| | 13:00 | NLHE - Final Day | £1,000+£10 |
| | 19:00 | NLHE / PLO Turbo Bounty | £500+£500+£50 |
| | | | |
| Saturday 1 October | 12:00 | Main Event Day 1b | £5,000+£250 |
| | 19:00 | NLHE Turbo (Bounty) | £1,000+£1,000+£100 |
| | | | |
| Sunday 2 October | 12:00 | Main Event Day 2 | £5,000+£250 |
| | 14:00 | NLHE - Women's Event (The Vic) | £500+£50 |
| | 18:00 | NLHE - Day 1 | £2,000+£150 |
| | 20:00 | NLHE Turbo - Win the Button! | £300+£30 |
| | | | |
| Monday 3 October | 12:00 | Main Event Day 3 - TV | £5,000+£250 |
| | 12:00 | NLHE Heads-Up (64 player cap) - Day 1 | £5,000+£250 |
| | 14:00 | European 8-Game Championship - Day 1 | £2,000+£150 |
| | 18:00 | NLHE - Day 1 | £1,000+£100 |
| | 20:00 | NLHE Turbo (Bounty) | £300+£100+£30 |
| | | | |
| Tuesday 4 October | 12:00 | Main Event Day 4 - TV | £5,000+£250 |
| | 12:00 | NLHE High Roller (8-max) Day 1 | £20,000+£500 |
| | 12:00 | NLHE Turbo | £1,000+£100 |
| | 13:00 | NLHE Heads-Up - Final Day | £5,000+£250 |
| | 13:00 | European 8-Game Championship - Final Day | £2,000+£150 |
| | 15:00 | NLHE - Final Day | £1,000+£100 |
| | 18:00 | NLHE / PLO - Day 1 | £1,000+£100 |
| | 20:00 | NLHE Turbo Rivers (each player receives own river card) | £300+£30 |
| | | | |
| Wednesday 5 october | 12:00 | Main Event Day 5 - TV | £5,000+£250 |
| | 12:00 | NLHE High Roller (8-max) Day 2 | £20,000+£500 |
| | 12:00 | PLO Day 1 | £2,000+£150 |
| | 12:00 | NLHE Heads-Up (64-player cap) Day 1 | £1,000+£100 |
| | 13:00 | NLHE / PLO Final Day | £1,000+£100 |
| | 16:00 | NLHE Day 1 | £1,000+£100 |
| | 20:00 | NLHE Hyper Turbo (10k stack / 10 min blinds) | £100+£20 |
| | | | |
| Thursday 6 October | 12:00 | Main Event Final Table - TV | £5,000+£250 |
| | 12:00 | NLHE High Roller (8-max) Final Day | £20,000+£500 |
| | 12:00 | NLHE Heads Up (64-player cap) Final Day | £1,000+£100 |
| | 12:00 | PLO Final Day | £2,000+£150 |
| | 12:00 | NLHE Final Day | £1,000+£100 |
| | 12:00 | EPT Country of the Year Freeroll (Ireland) | Invitation |
| | 13:00 | NLHE PpokerStars SNE Invitational | Invitation |
| | 14:00 | NLHE High Roller Turbo - 6-max | £10,000+£300 |
| | 16:00 | UKIPT Super Turbo £25k GTD (30k stack 15 min blinds) | £300+£30 |