Fox Poker London Calling Festival Starts Tomorrow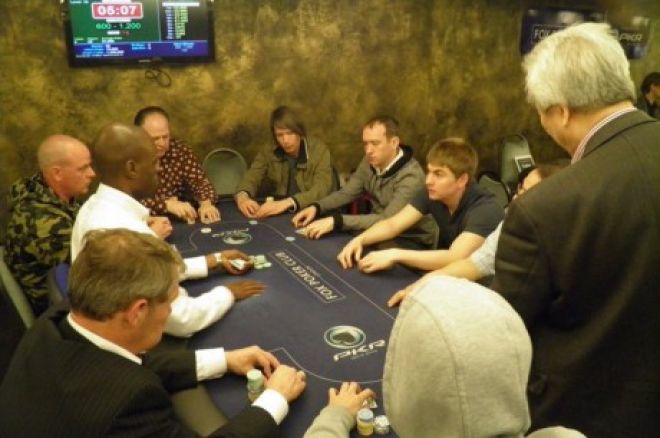 For a large number of people, the August Bank Holiday weekend will be spent stuck in traffic on the way or coming back from the coast, stopping the kids from trying to kill each other or watching a re-run of James Bond for the 20th time in their lives.
But it does not need to be like that as the Fox Poker Club in London are hosting the London Calling 2011 Festival, who's feature tournament is the two-day £500+£40 Main Event. The Main Event kicks off at 1500 on Sunday August 28 and sees players start with 20,000 chips (with a £10 option for a further 2,500 chips) and blinds starting at just 25/50 that increase every 45 minutes. There will also be two side events taking place, the first being a £200+£15 No Limit Hold'em Six-Handed tournament at 1400 on Saturday 27 August and a £150+£10 No Limit Hold'em Freezeout on Monday 29 August at 1400.
If the £500+£40 buy-in for the Main Event is a little out of your league then fear not as the Fox Poker Club are holding a number of satellite tournaments in the lead up to the Bank Holiday with buy-ins ranging from £35 up to £85. See below for the full schedule of the Fox Poker Club London Calling 2011 Festival.
| Date | Time | Name | Notes |
| --- | --- | --- | --- |
| Wednesday 24 August | 1900 | £60+£5 NLHE Freezeout Satellite | 6k stack, 20 min clock, 3 seats GTD |
| | 2200 | £30+£5 One Rebuy Satellite | 3k stack, 20 min clock |
| | | | |
| Thursday 25 August | 2200 | £30+£5 One Rebuy Satellite | 3k stack, 20 min clock, 1 seat GTD |
| | | | |
| Friday 26 August | 2200 | £30+£5 One Rebuy Satellite | 3k stack, 20 min clock, 1 seat GTD |
| | | | |
| Saturday 27 August | 1400 | £200+£15 NLHE Six-handed Side Event | 15k stack, 30 min clock |
| | 1900 | £80+5 Freezeout Satellite | 6k stack, 20 min clock |
| | | | |
| Sunday 27 August | 1500 | £500+£40 NLHE Main Event | 20k stack, 45 min clock |
| | | | |
| Monday 28 August | 1400 | £150+£10 NLHE Freezeout | 15k stack, 30 min clock |
| | 1500 | Main Event Day 2 | |