Dusk Till Dawn Grand Prix Ends in 8 Way Chop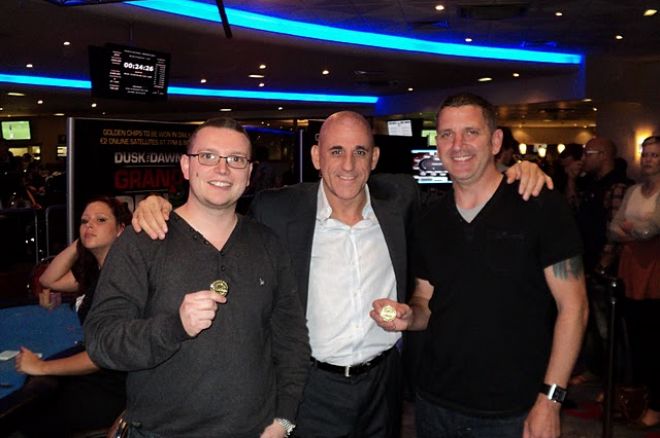 In total there was 4010 entries/re-entries for the €250,000 guaranteed Grand Prix at Dusk Till Dawn, reducing the overlay to €49,450. It was looking like they were heading for an overlay of €115,000, but the club aggressively increased the number of online and live day 1s to reduce the deficit.
In total, 399 players made it to the official day 2 at the club on Saturday, all in the money. The final table ended in an eight way deal, so nobody walked away with the original first prize of €46,369. The deal, plus chip counts at the time, worked out like this:
Nicholas Humphris €30,000
approx chip count 1.1m
Tommy Bingham €27,900
Approx chip count 1.9m
Romans Mihailovs €11,500
approx chips 560k
Marios Arkadiou €11,500
approx chips 470k
Mohammed Ashfaq €11,500
approx chips 397k
Ian Turner €10,700
approx chips 450k
Mark Wates €10,700
approx chips 285k
Michael Daryl Haney €10,700
approx chips 161k
Special mention also has to go to Michael Haney and Ian Turner (Pictured with Simon Trumper), who both won the clubs 'Golden Chip' promotion, which was a special satellite whereby anyone who won their ticket and also made the final table, would receive an additional £15,000 or a brand new Mini.
It was perhaps disappointing to see the event break up as soon as the official final table was reached, but it is somewhat understandable that everyone would want to lock up five figure profits for a €60 initial buy-in. Despite the overlay, one has to tip their hat to Dusk Till Dawn for providing a ground breaking live event for mid stakes players that has pushed the boundaries for UK poker yet again.
Next up for DTD is the APAT World Championships of Online Poker, which starts this week.
Images and final table deal information courtesy of Blondepoker, who provided Live Updates from the event.