PokerNews Main Event on PokerStars - $20k Added, Open to All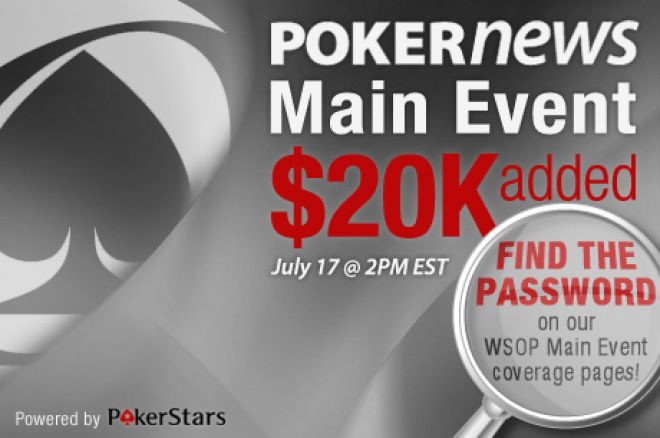 If you missed out on playing in the World Series of Poker Main Event this year, do not despair. Every year PokerNews and PokerStars come together to bring you a special tournament to complement our official WSOP Live Updates, and this year it's bigger and better than ever.
On July 17 at 1400 EDT (1800 GMT), you can play in the PokerNews Main Event. It costs $10+$1 to enter, but boasts an added $20,000 to the prize pool. Not only is this one of the best online tournaments of the year, it is also designed to replicate the WSOP Main Event, despite the fact that you do not need to leave your home.
Big Money
The added $20,000 is about as big as it gets for added money in a tournament. It is the equivalent to an extra 2,000 players entering the tournament. Even better when you consider the fact that PokerStars no longer accepts U.S. players, meaning the traffic will be much lower than usual.
Deep Structure
This is also a tournament with real player value, as it boasts one of the deepest structures around, mirroring the WSOP Main Event. Players will receive 30,000 in chips and there will be 15 minute blinds that will start at 50/100. There is no excuse for busting out on level one, and the most skilful players can enjoy a massive edge advantage. There is also a late registration of 120 minutes.
Play alongside the WSOP Main Event
This tournament has been designed to accompany the WSOP Main Event. You can play alongside our official live updates from the Main Event, as well as watching our exclusive video updates.
Open to All
Unlike a lot of money added tournaments, this event is open to everyone regardless of whether they signed up to PokerStars through PokerNews or not. If you do not currently have a PokerStars account, you should sign up through PokerNews, because we regularly host exclusive five-figure freerolls with them that you cannot find anywhere else.
To play in this tournament, you will need the password, which will be released at different intervals during our official live updates of the WSOP Main Event. So in order to get it, you should bookmark our WSOP Main Event Live Updates page.
Don't forget to use marketing code "UKPOKERNEWS" and bonus code "STARS600" when joining PokerStars for a 100% up to $600 bonus and to ensure eligibility in future PokerNews promotions.