PartyPoker Weekly: Professor, Where's My Money?
This week on PartyPoker, watch Tony G up to his usual antics once again, as he prepares for the World Domination promotion.
Professor, Where's My Money?
Tony G is in fine form again, as he embarks on the golf course to not only promote the new World Domination and rake free tournaments promotions at PartyPoker, but to also poke a little bit of fun at a certain Professor.
For more Tony G fun, check out the PartyPoker Blog.
World Domination Has Started
Take over the world this summer with a two month long promotion with freeroll seats, cash, and a top prize of $100,000. Just earn 10 PartyPoints to be randomly awarded a city from 72 available. Each city has a prize which includes freeroll tickets and cash prizes. When you get all four cities from a country (For example, England has Manchester, London, Liverpool, and Newcastle) you get a larger country prize between $75-$1,500.
The big money comes in when you can complete all the cities in an entire continent, for example, getting all of Asia wins you $5,000 and Europe will bag you $20,000. Finally, the player who gets every single country has world domination – worth a cool $100,000!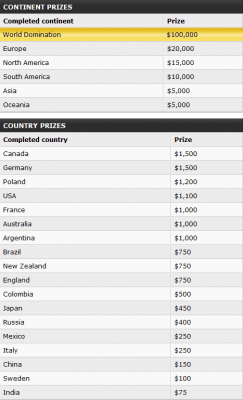 This promotion takes place between July 8 and August 31, so you have plenty of time to take over the world.
The Best Bonus in Online Poker
PokerNews has the best PartyPoker bonus in the world, and you can benefit whether you have money to deposit or are starting from scratch.
Reminder: you can get $50 for free when you sign up for a PartyPoker account via PokerNews, follow our walk-through guide and use bonus code UK50Free. You don't need to deposit any money or give any of your bank details. This bonus is exclusive to PokerNews, but if you want to get an even bigger bonus, you can use our Party Free $50 bonus alongside our exclusive reload bonus, to get $100 for just a deposit of $50. Not only do you benefit from this, but the redemption requirements are much easier via PokerNews than anywhere else.
If you were to sign up for a PartyPoker account anywhere else, you would have to deposit $100 to get a $100 bonus. Then, to release that bonus, you would need to earn 600 Party Points. However, with PokerNews, you can get the same bonus for half the deposit and nearly half the points target. Just follow our step-by-step guide.
Wait to receive your first free $25 before doing anything else.
Earn 200 points to redeem the extra $25.
Earn 150 points to redeem the $50 bonus.
If you experience any problems with this or any of our promotions, please contact our Ticketed Promo Support System.