November Nine Betting Odds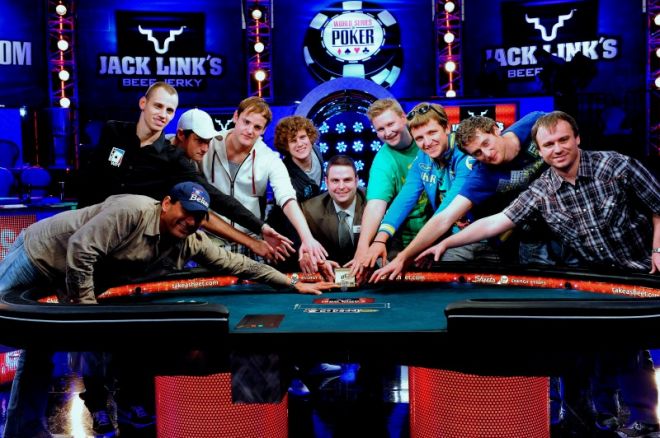 November Nine betting odds are already available at most of the major UK bookmakers, with PaddyPower and Betfair offering some of the best odds. This year it is one of the closest markets ever.
Chip leaders Martin Staszko and Eoghan O'Dea are joint favourites at around 9/2 with most sportsbooks. Ben Lamb and Phil Collins are just behind them, both at around 11/2. Although he is third in chips, he isn't as well known as the guys ahead of him, and Matt Giannetti is on at about 13/2.
In the second part of the pack, Anton Makiievskyi and Pius Heinz are both on at about 10/1. The UKs Sam Holden is the shortest stack at the table and is currently priced at 12/1.
Finally, Badih Bounahra of Belize must have struggled to impress the bookies, because despite being 6th in chips, is sat at the bottom of the market, and is priced as high as 14/1 with some sportsbooks.
Don't forget that you can play the bookie yourself and lay the players you think won't win at Betfair. You can also have a very cheeky double at PaddyPower and bet on the main event, and also the fate of Full Tilt Poker, over at Paddy Power.
Martin Staszko (Trinec, Czech Republic) – 40,175,000 in chips
Eoghan O'Dea (Dublin, Ireland) – 33,925,000 in chips
Matt Giannetti (Las Vegas, NV) – 24,750,000 in chips
Phil Collins (Las Vegas, NV) – 23,875,000 in chips
Ben Lamb (Tulsa, OK) – 20,875,000 in chips
Badih Bounahra (Belize City, Belize) – 19,700,000 in chips
Pius Heinz (Cologne, Germany) – 16,425,000 in chips
Anton Makiievskyi (Dnipropetrovsk, Ukraine) – 13,825,000 in chips
Sam Holden (Sussex, UK) – 12,375,000 in chips