Laura Cornelius' Blog: It's All About the Blackjack

Laura Cornelius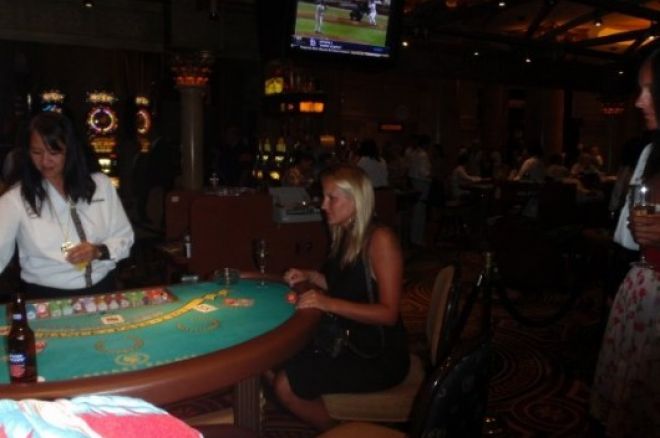 Well, it may be nearing the end of the Main Event of the World Series in Vegas, but no one is taking the shine off me this week, as I competed in The European BlackJack Open at The Empire Casino in Leicester Square in London. I got invited a month previously to the event and thought it would be a fun event to take part in, not only because I love a gamble, being of the degenerate persuasion, but also because I didn't have to gamble my own money and could win €5000. Sounded perfick!
These days most of the time off I get goes to playing poker, but with the BlackJack open looming, I thought it would be a wise idea to sharpen up on my basic blackjack strategy and get down to the casino to have a practice. Yep, any excuse. I could have just stayed at home and dealt myself cards til the cows came home, but I wanted the real casino experience for practice. So, I took a hundred quid out to have a flutter with one rainy friday afternoon, brought my book I'd scribbled all my strategy in and idly bounced off to the blackjack table at The Empire. Now, most poker players think Blackjack, along with Roulette are silly games because the house always wins. I can understand this, but I still enjoy the heart palpitations when you double up and double up your chips because you're losing and suddenly the Ace and the Face comes home to Momma! I was already £300 up in my practice session, whilst consulting book mid hand before I then decided to go treat myself on some new dresses with my winnings. I was ready for the tournament.
So, though I have played a lot of Blackjack in casinos in the past, I had never played a Blackjack tournament, against the dealer and against the other players. There were 15 of us starting with 1000 chips, 3 heats with 5 people, 10 hands of Blackjack in each heat and the player accumulating the most chips at the end of each heat, along with 2 runners up from any other heat would go through to the final table of 5. I didn't really have a clue in terms of strategy against the other players, but I used my common sense to work out if the chipleader was betting big, I better bet small and vice versa to make the most chips. Every player at my table put all their chips in the 10th hand and we all watched the dealer go bust. I was left with 1950 chips, but 3rd on the table, so felt a little deflated that I hadn't made it through. We watched the final heat after ours and as the crew totted up the scores, I stood gobsmacked as I got told I had just made it through as the second highest runner up and would be at the final table. Time for a drink. Back to the table and in just a few hands, 3 players had been eliminated, I hit a blackjack when the dealer hit 21 and a lot of the players had their chips in the middle and bust out.
Suddenly I could win this. It was down to me and a fella called Anthony from Wolverhampton, who didn't say very much, maybe because he didn't have many teeth, I'm not sure, but all my chips were in on the 10th hand and if I could win the hand, I could win the tournament but if I drew with the dealer, or lost, Anthony would take it down. I was on 19, a strong hand, especially when the dealer had pulled out a 6 and a 10. I was sure the dealer would bust, any card but a 3, 4 or 5 would take me to the 5000€ prize. The dealer's hands went into slow motion. The card flipped over. It was a club. It was a 3. Nooooooooooo! Not a 3, a push hand did not help me. Anthony had more chips and the huge cardboard cheque came flying in his direction. Luckily we had had a little deal before we all got to final table, so I had made a something out of the day, but it was Anthony who was the one who was to be laughing all the way back to Wolverhampton with his big, cardboard cheque. He got a bottle of Veuve Cliq as well to then exclaim he didn't like champagne. Ungrateful so and so!
The day was however a great success, and we then carried on with some more fluttering on the tables which saw me win a little more poundage, a fantastic meal and some karaoke. For those of you British folk, you can catch the European Blackjack Open televised on Sky 166 in August, though I apologize now for telling you the end of the story. Part of me loved every minute of it and is contemplating moving solidly over from Poker to Blackjack, but then again, no one remembers second place, so maybe I should train up a bit more and get ready to enroll in 2012 WSOP!