Grosvenor Victoria London Poker Championships Start Today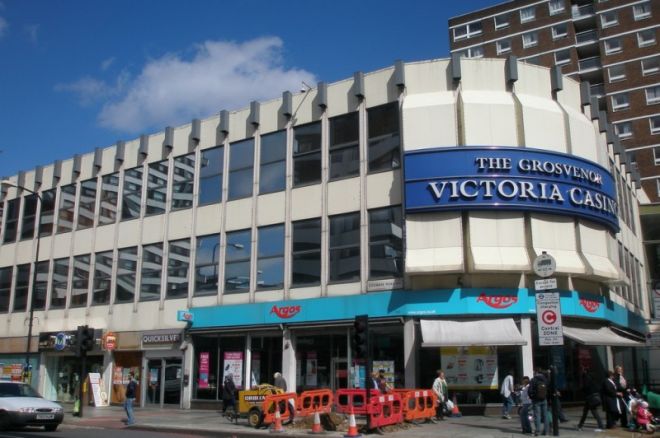 One of the most iconic poker venues in England's capital, "The Vic," is once again hosting the popular London Poker Championships between July 18-24.
The £300 + £30 Main Event is being complemented by a full programme of side events, ranging from six-handed tournaments, Pot Limit Omaha tournaments and some "Deep & Steep" events where the players start with 15,000 chips but play to 15-minute blinds.
Last year's feature tournament was won by Qamran Ghani who walked away with £15,540 after outlasting 181 opponents. This year's Main Event will feature two flights on Day 1 so players can choose from a 2pm start or a 7pm start on Saturday 23 July. In a slight change to the 2010 edition of the London Poker Championships, the players in the Main Event will start with 15,000 chips instead of 10,000 and will play to the tried and tested 40-miunte blind structure used in GUKPT Main Events.
The full schedule for the 2011 London Poker Championships is as follows:
Monday 18 July @ 1930: £200 + £20 freezeout
Tuesday 19 July @ 1930: £150 + £15 Deep & Steep freezeout
Wednesday 20 July @ 1930: £200 + £20 Pot Limit Omaha
Thursday 21 July @ 1930: £250 + £25 Six-max freezeout
Friday 22 July: Day off, no LPC tournaments planned
Saturday 23 July @ 1400: £300 + £30 Main Event Flight 1
Saturday 23 July @ 1900: £300 + £30 Main Event Flight 2
Sunday 24 July @ 1400: Main Event Day 2
Sunday 24 July @ 1700: £150 + £15 Bounty freezeout
Sunday 24 July @ 1930: £100 + £10 Deep & Steep freezeout