Eoghan O'Dea & Samuel Holden Make the November Nine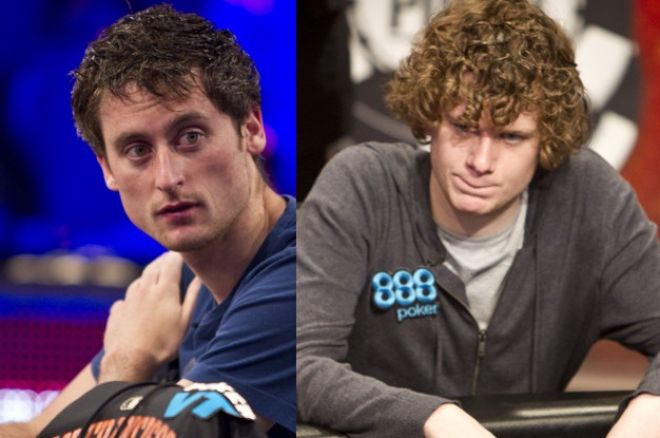 6,865 players have become 9 in Las Vegas, and we have the UK & Ireland represented. Eoghan O'Dea of Dublin, and Samuel Holden of Sussex, have both made the World Series of Poker final table, and joined that illustrious group known as the November Nine.
Eoghan O'Dea has been quietly crushing the field for a couple of days now, and will come back to the final table second in chips. In making the final table he has also pulled off a unique feat, of being part of the first Father & Son combination to both make WSOP Main Event final tables. His Father Donnache O'Dea made the main event final table both in 1983 and 1991.
He will be one of the big favourites with the bookmakers, and will no doubt provide one of the most ferocious rails ever seen.
UK player Samuel Holden has more of an uphill battle ahead of him, as he will be coming back the short stack with 12 million (20 big blinds). Some may say that this is in one of the better situations, mentally, for the three month delay, as all the pressure is off and he can enjoy being a November Niner. One thing is for sure, this relative unknown will be a household name in UK poker circles by the time the final table rolls around.
| | | |
| --- | --- | --- |
| 1 | Martin Staszko | 40,175,000 |
| 2 | Eoghan O'Dea | 33,925,000 |
| 3 | Matt Giannetti | 24,750,000 |
| 4 | Phil Collins | 23,875,000 |
| 5 | Ben Lamb | 20,875,000 |
| 6 | Badih Bounahra | 19,700,000 |
| 7 | Pius Heinz | 16,425,000 |
| 8 | Anton Makievskyi | 13,825,000 |
| 9 | Samuel Holden | 12,375,000 |
They are both guaranteed $782,115 (and the next pay jump breaks the million dollar mark), and will no doubt be eyeing up the $8,711,956 first prize that accompanies being our game's biggest star. Join us in November when we see if the bracelet will be coming back over the pond, and until then, see how they got their with our WSOP Main Event Live Updates.