Julian Thew: Heading to Vegas

Julian Thew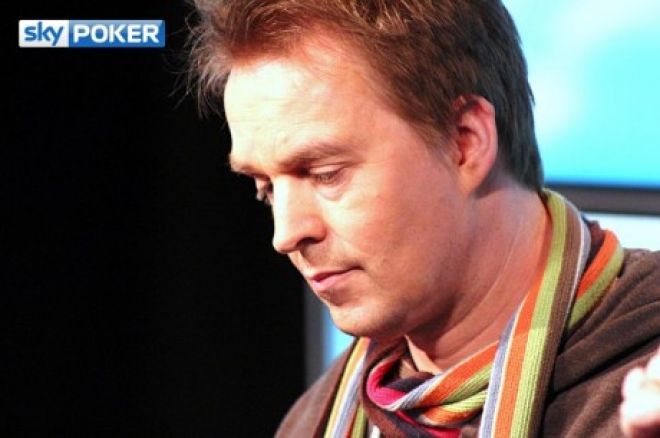 Sky Poker Pro Julian Thew starts a new blog at UK PokerNews, which starts as the EPT & GUKPT champion heads out to Vegas for the WSOP.
So, it's that time of year again. I am off to Vegas this week, jumping on a train out of Gatwick around 5pm. The weekend reading was interesting; The Guardian's 'Weekend' had a piece on brothels in Nevada and my wife read it over the morning coffee. "Oh, marvellous", I thought! Great timing, that.
I land in Vegas around 2pm so am planning on bumming around on Tuesday. I'll probably meet up with either Tony Kendall or my mate Lovejoy while I am out there if they're not playing. Tony owes me a meal of my choice after we had a last longer in a Sky Roller tournament and he was out after 10 minutes. I don't think sushi is going to be top of his list but we'll see.
Wednesday should be the $1500 at the Venetian. There's a $5k at the Rio, but I am staying at the Venetian in the first week before moving over to the Rio in the second. The last thing I want to do on my first day playing is get in a taxi, go to the Rio and then come back. I'd rather just wander down to the Venetian and have everything at my feet. The Venetian is far superior as a hotel and as a poker player the service is great. You've got drinks waitresses always around, so it's just far better. I will play one of the side events before the Main, probably the $1000 NLHE on the Sunday, just to get my feet under the table.
I'd never consider going out for the whole series now. My mum is over at the moment and my wife headed out with her for three or four hours, leaving me with the kids. I don't know how she does it! That was tough enough, and going out for three weeks as it is tough enough. I think it's very hard to play well for six weeks straight anyway.
The English players seem to be doing well out there. We've dried up a little on the bracelets this last week, but we've had Paul Nash final table and John Shipley and Kabbaj both went deep. It's interesting – there's always been something to look at on Pokernews and sweat. I wouldn't rule out another 2 or 3 bracelets at the Series.
The success of the Brits is tricky to explain. I think part of it is variance. I suppose if you look at the people who have done well out of the Brits, they probably weren't heading out to the series a few years back. There's a new batch of kids coming through and they're tip-top players. They're living together, pooling information and it's just a great way to learn. I can remember when I was in to my canoeing in my early 20s, we lived it and that's what made us really good. It's the same with these guys – they have the hunger and drive, and can immerse themselves in it. For the older guys I think it's harder to get the volume in.
I've never performed in the Main, and never felt like I've played that well in it. My goal is just go there and do my best. If and when I bust I want to know I've given it my best shot, rather than feel like I've made any silly mistakes.
I'm hoping my temperament is going to be better and I'll have more of an eye on the bigger picture and not get too concerned about average chip stacks and so on. I think I made a mistake on my exit last year where I was relatively short-stacked. I still had about 25 BBs and I called it off with 3-3. I'd like to think I wouldn't do something as rash as that. Mentally I felt I needed to double up and gamble, which I didn't need to do.
As for approaching the tournament, I'm not going to have a set plan for each day. I'm not going to plan a strategy for Day 2 or 3. At the end of each day of course I'll have a good think back on how I've done. Other than that, I am just going to roll with it.