iPAD2 Summer Madness: $15,000 of iPAD2s To Be Won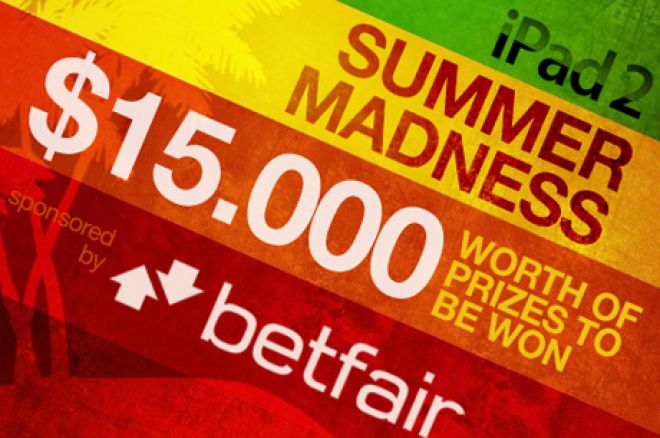 Earn points on Betfair Poker between June 1 and August 31 to win tickets to play in five exclusive freerolls in September to win a 16GB iPAD2. Exclusive to PokerNews, new players only.

PokerNews and Betfair Poker have come together to bring you $15,000 in exclusive freerolls to win one of the most sought after pieces of equipment on the planet. We are giving away 15 x 16GB iPAD2s (and some cash prizes too) across five freerolls in September. All you need to do to play is earn points on Betfair Poker over the next three months.
To play for the chance to win one of 15 iPAD2s, you need to register a Betfair Poker account through PokerNews between June 1 (0000 CET) and August 31 (2359 CET) and earn Betfair Poker Points to win tickets to our freerolls between September 3 and 7. The more points you earn, the more chances you will have to win.
100-199 Betfair Points: Ticket to Tournament 1 (1 chance to win)
200-299 Betfair Points: Tickets to Tournament 1 and 2 (3 chances to win)
300-399 Betfair Points: Tickets to Tournament 1, 2, and 3 (6 chances to win)
400-499 Betfair Points: Tickets to Tournament 2, 3, and 4 (9 chances to win)
500+ Betfair Points: Tickets to Tournament 3, 4, and 5 (12 chances to win)|
You can play in up to 3 iPAD2 freerolls, however, the later tournaments have more iPAD2s on offer than the early ones. A maximum of one iPAD2 can be won per player. If you win one you can still play in future tournaments to win one of the listed cash prizes (If you finish in an iPAD2 placing you will be moved down the payouts to the cash prizes and the person you replace will win the iPAD2).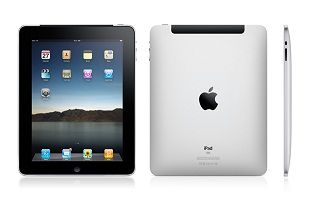 Tournament 1: September 3, 2200 CET
Prizes: 1. IPAD2; 2. $100; 3. $50; 4. $30; 5. $20
Tournament 2: September 4, 2200 CET
Prizes: 1. IPAD2; 2. IPAD2; 3. $100; 4. $50; 5. $30
Tournament 3: September 5, 2200 CET
Prizes: 1. IPAD2; 2. IPAD2; 3. IPAD2; 4. $100; 5. $50
Tournament 4: September 6, 2200 CET
Prizes: 1. IPAD2; 2. IPAD2; 3. IPAD2; 4. IPAD2; 5. $100
Tournament 5: September 7, 2200 CET
Prizes: 1. IPAD2; 2. IPAD2; 3. IPAD2; 4. IPAD2; 5. IPAD2
About the iPAD2
The all new iPAD2 is thinner, lighter, and more advanced than the original iPAD. It has a dual core A5 chip, an iOS 4 operating system, super-fast graphics which make it excellent for gaming, and a 10 hour battery life. This 16GB model has in built wi-fi which makes it a must for surfing the net, checking your emails, playing games, listening to music, watching videos and much more.
To earn the minimum of 100 Betfair Points you need to rake somewhere in the region of $20 between June and August. However, to earn 500+ points to play in the final three biggest freerolls you need to rake around $100. That may sound a lot but it is only $33 per month and you can be playing to win one of 12 iPAD2s.
This is very good when you consider this is only open to new PokerNews referred Betfair Poker players, so the tournament fields will be small. Also, when you consider you can get a $2,500 First Deposit Bonus when you first download Betfair Poker, you could be well onto your way to buying a new iPAD2 anyway.
If you experience any problems with this or any of our promotions, please contact our Ticketed Promo Support System.
This promotion is governed by Betfair Poker's Terms & Conditions. . Please read them thoroughly before participating.