APAT UK Pub Poker Team Championship Results

Jonathan Fey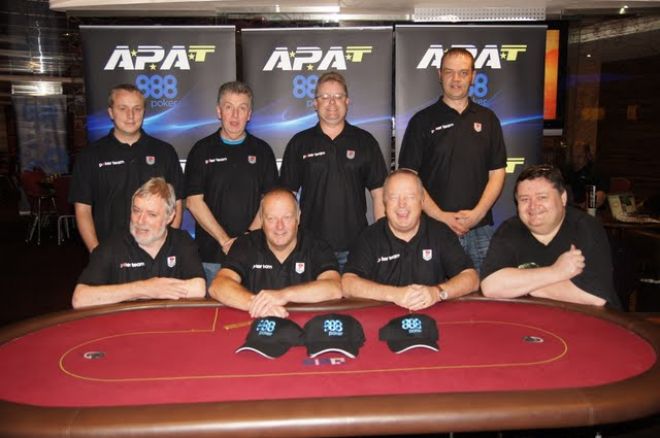 Over the weekend of 25th-26th June 2011 APAT held the latest event in it's fifth season, sponsored by 888.com, with the UK Pub Poker Team Championships held at the G Casino, Blackpool consisting of 16 eight player teams playing to win team and individual prizes worth £3,200 each.
Courtesy of 888.com the individual winner of the Championship wins an entry to a UKIPT main event as part of an overall sponsorship package where APAT members have the chance to win added value throughout a packed season of Live and Online National Championships and leagues. In addition, each of the season's seventy five amateur, professional and online tournaments are run completely registration free for players.
After several hours play two players from the New Talbot in West Bromwich Tony Trippier and Brian Yates were three handed against Phil Jones from team winners Edgworth. Tony Trippier became the APAT UK Pub Poker Champion 2011 winning £900 and a UKIPT Main Event seat, with Edgworth Cricket Club, Derbyshire the winning team.
APAT now moves to the APAT Scottish Amateur Poker Championship in Glasgow in July and the sixth National Championship of Season Five. You can qualify and buy in direct at 888 Poker.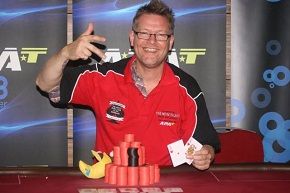 1st Tony Trippier £900
2nd Phil Jones £575
3rd Brian Yates £380
4th Arthur Harvey £288
5th Charlie Hinds £225
6th Colin Turnbull £192
7th Ian Szerlowski £144
8th Noe Purdie £128
9th Liam Dennehy £112
10th John Lawson £96
11th Alan Kerr £80
12th Sean Kachmarski £80
Team Event
1st Edgworth Cricket Club £1,600
2nd The Ranch Bar £1,000
3rd The Wellington £600