Laura Cornelius' Blog: Pizza, Pasta, Poker, SHOES!

Laura Cornelius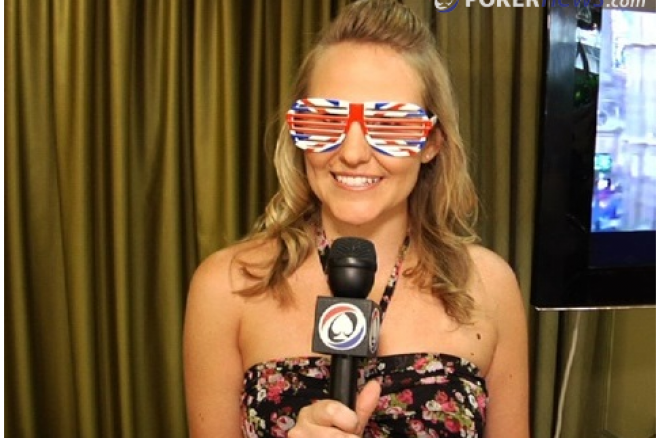 So, we touched down for the EPT in San Remo just 4 days ago and to be fair, I've probably only put on about 8kg so far. Yep, the food is simply amazing here. Unfortunatley I had some pretty bad luck the day before I left London, with my flat getting broken into and my laptop and some of my valuables stolen. Highly annoying and costly but luckily I don't dwell on these misdemeanors too much and just get on with it all. Some of my friends say its my own fault living in a part of London (Brixton) that is not well-known for its safer streets, but I love the vibe there. So with no laptop and no credit or debit cards I found myself having to borrow a fair wad of cash from friends to keep me going straight through the 3 weeks I would be away (from San Remo the PokerNews crew heads straight on to Madrid for Grand Final) I'm only 4 days in and my careful spending has bought me a new laptop, 2 pairs of shoes and a dress. Whoops. It's fair to say I'm not even that much of a shopper, but the shops here in Italy are simply to die for. I have to think of different ways to walk back to the hotel from Il Casino di San Remo just so I don't buy any more shoes!
San Remo truly is a beautiful and quaint city, with cobbled streets, authentic, amazing restaurants and scenery to die for. Some of the camera crew and I took a trek up to the top of the city to check out the views; it nearly killed me walking up all the steps with mopeds whizzing past every few moments, but was definitely worth it!
It's the first time I've been to San Remo for an EPT, but I was actually here about 6 years ago, so it brought back some really fond memories. I've spent a lot of my life travelling, either for work or aimlessly searching for excitement in the form of new cities to explore and people to make friends with. It was a theatre tour for kids I was performing in back in 2006 when I first explored San Remo and took hold of it's splendour. Never did I know 6 years later I would be back here again! Sad to say, but when I saw the McDonalds in Piazza Colombo, I got a bit too excited 'Oh this is the McDonalds where Nicola and I would sneak out from rehearsals and get our tea!' Got to stick to my tea-drinking roots huh!?
The week so far has been full of fun, food and drink. Obviously whenever we visit a country, we want to experience the culture as fully as possible, so that's why Gloria Balding and I went out to 'research' the best Italian liquors here in San Remo. Not quite sure how it's possible for me to pull so many facial expressions within 7 minutes, but hey, taste some grappa, then you'll know!
Today has also been a big day in the media room, well for the handful of Brits here, as it Royal Wedding Day. Being British myself, I of course felt the need to make a video about the wedding and various poker players opinions to it. It's unanimous, they really don't care! To be honest, I wasn't all that bothered about it, until I got here this morning and we started playing the live stream on the computer. Mad Harper had a Union Jack hat and flag draped round her and the pride rubbed off on me as before we both knew it we were sat there watching Kate walk the aisle with her father, both of us with tears in our eyes!! Dear oh dear, I hear you cry, well don't worry, we are over it now and in full swing with Day 2 at EPT San Remo. Carter Philips has just taken over the chiplead with 360,000 chips (for those that needed a poker hit quick after all that Royal Wedding chat). However, for those with just a teensy piece of sentimentality in their bones, here's the royal wedding video!
A few more days here in San Remo to see our brand new EPT Winner crowned and then its straight off to Madrid. I've never been to Madrid before, but I love tapas almost as much as pizza, so it can't be all bad. Here's hoping I get thrown in front of a bull with a red cloth at some point in the middle of the Grand Final too!
WSOP Online have announced four British only Qualifiers to the World Series of Poker Main Event. The final qualifier on June 26 will also feature an added value WSOP-E package to the winner.