Adam Bromley Wins Sky Poker Tour Leeds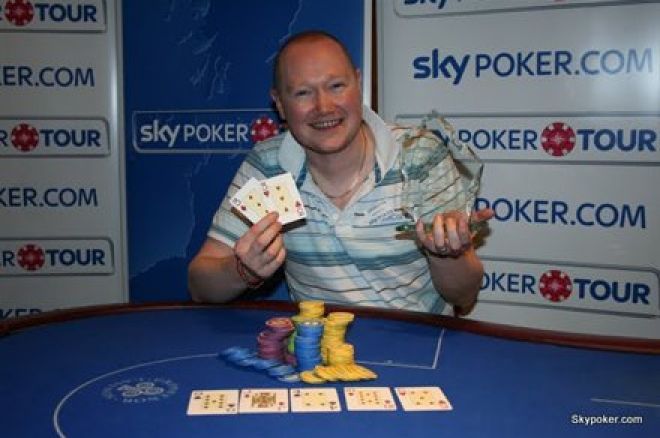 Adam "Bromley04" Bromley won the fourth leg of the 2010-11 Sky Poker Tour at the Grosvenor Casino Leeds this past weekend. He beat a field of 158 runners comprised of Sky Poker players who had qualified online for the event on Sky Poker. Adam beat Barry "Jubei" Cobb Heads-Up with Sky Poker Professional Julian Thew finishing third.
Adam said "I am still absolutely buzzing from the win. An amazing day and definitely one of the best Sky Poker Tour events I have been to so far. Julian Thew is a legend and it was an absolute pleasure to play on the same table as him."
The final table also featured UK PokerNews Editor Barry Carter, who finished in 7th place.
The Tour now moves onto the next leg to be held at the Les Croupiers Card Club in Cardiff on 23rd July.
1 Adam Bromley £5,000
2 Barry Cobb £3,500
3 Julian Thew £1,700
4 Robert Johnstone £1,200
5 Nigel Dunbar £850
6 John Hicks £750
7 Barry Carter £650
8 Richard Robinson £550
9 Peter Louchran £425
10 Iain Brassell £300
11 Norman Ranger £175
12 Graham Newton £175
13 Daniel Pinder £175
14 Saleen Mohammed £175
15 Patrick Costello £175
There is still time to qualify for the €1,000 Unibet Open Freeroll at 2000 CET on Friday. The top twenty players also win seats to a €6,075 final on May 19 which includes a Unibet Open Barcelona package to the winner.