Peter Wigglesworth Wins Black Belt Poker Live II

Jonathan Fey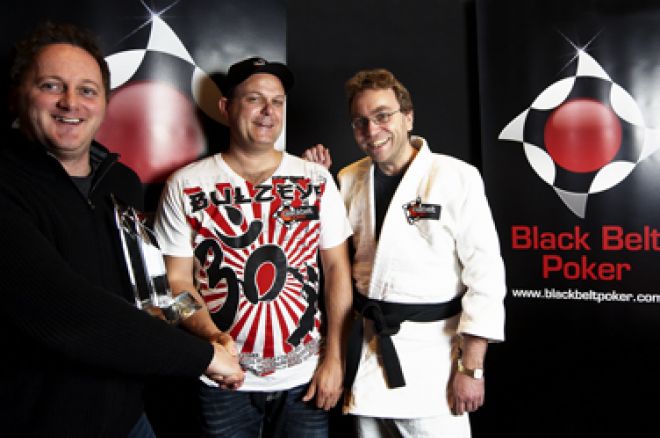 Peter Wigglesworth of Reading has become the Black Belt London Live II Champion after beating Michael Yiannikkou heads-up.
After a brief battle, the two remaining players decided to split the prize pool down the middle, meaning both left with $16,000 in their back pocket. However, with the silverware still on the line, it was Wigglesworth who ultimately triumphed, his Kc-Qh holding firm against Yiannikkou's Qs-8s all in on the flop of an Ks-4h-8h-7s-Jc board.
Wigglesworth, a 46-year old semi-pro currently residing in Ascot, was quick to praise his heads-up opponent, commenting, "He did all the work for me. I just had a good run of cards near the end," before adding, "My first live result was actually in last year's event. I finished 15th but felt I should have made the final table, so was determined to do better this time around."
After selling out just under a week prior to kick-off, Black Belt Poker extended the field to enable 414 poker fanatics to embark on the Grosvenor Victoria Casino on Edgware Road. Both pros and amateurs alike stumped up the $250+25 buy-in fee, meaning that recreational players were given the opportunity to face the likes of Ross Boatman, Luke Schwartz and EPT/WPT winner Jake Cody.
"It was a really long day and I do find it quite tiring," concluded Wigglesworth. "It's definitely become a young player's game, but I have a strategy and it seems to be working. I love these tournaments; the structure's great. If Black Belt Poker had more, I'd play every one."
1st Peter Wigglesworth — $16,020 ($16,000)
2nd Michael Yiannikkou — $16,020 ($16,000)
3rd Gareth Alder — $9,600 ($8,000)
4th Gavin Hall — $7,450 ($6,000)
5th Andy Nguyen — $4,500 ($4,500)
6th Raj Rughwani — $3,520 ($3,500)
7th Louis Manson — $2,850 ($2,750)
8th Stephen Power — $2,250 ($2,250)
9th Seth Webber — $2,000 ($2,000)
If you like live poker and love to party, you should play in the Rox Race to Brazil. An exclusive PokerNews Points Race to win one of three Brazilian Series of Poker packages from Rox Poker.