Dusk Till Dawn Monte Carlo Ends in Three Way Chop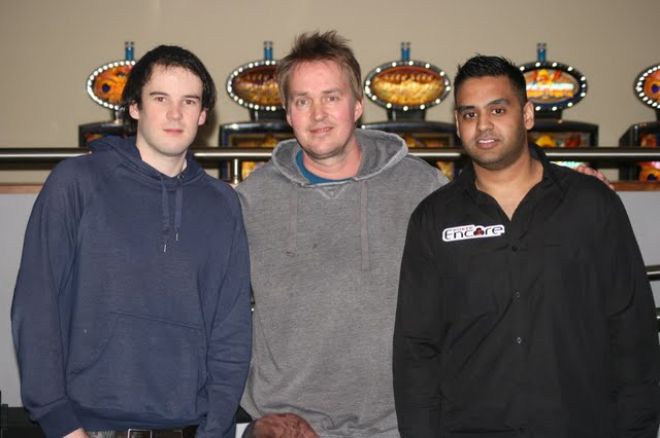 With all the goings on in the online poker world over the weekend you would be forgiven for forgetting that one of the most eagerly anticipated UK-based tournaments of the year was taking place at the Dusk Till Dawn poker club in Nottingham, the "Monte Carlo."
The Monte Carlo is a £1,000 + £90 freezeout that plays to a 60 minute clock that mirrors the excellent EPT Grand Final blind structure. Last year Fraser Bellamy outlasted 254 fellow poker players, including beating Jack Ellwood heads-up, to take home the £78,488 prize. This year the organisers at Dusk Till Dawn increased the guarantee from £200,000 to a staggering £250,000 and by the time registration had closed, a total of 291 players had swapped £1,090 for 30,000 tournament chips and the chance to win £90,188.
With such an amazing structure for such a relatively low entry fee it was not surprising to see some of the biggest names in European poker taking to the felt in Nottingham. The likes of Dave "Devilfish" Ulliott, Per Linde and recent WSOP bracelet winner James Dempsey, though the latter was one of the very first casualties of Day 1a. Over the course of the two official Day 1s the 291 players were whittled down to 107 and these were then reduced to 20 on Saturday, and what a last 20 they were.
The UK poker scene is booming and seems to be going from strength-to-strength and no wonder because included in the final 20 players were Thomas Macdonald, Laurence Houghton, Sunny Chattha, John Eames and Julian Thew. These 20 hopefuls played some excellent, entertaining poker and any single one of them would have been a worthy champion but one by one their hopes and dreams were shattered as they were sent to the rail. Then at around 1700 Jen Chiang's ace-eight failed to outrun the ace-queen of Sunny Mistri to eliminate him in tenth place and the final table was set.
Houghton was the first player to bust from the final table, his short-stacked shove with eight-seven losing to the suited jack-eight of Nick McLellan before last year's winner, Bellamy, exited in eighth place when he got his money in holding


against the


of Macdonald on a



flop. The

on the turn completed Macdonald's straight and when the river failed to pair the board it was game over for Bellamy.
Waheed Ashraf was the seventh placed finisher his


losing to the


of Chattha with the money going in preflop and when Thew's


flopped an ace to best McLellan's pocket fours, play was now four handed and everyone was guaranteed to walk away with no less that £16,650 for their efforts over the weekend. Mistri was the man to pick up this amount, his "Big Slick" unable to pair one of its cards to lose to Chattha's pair of nines and then shortly afterwards the last woman standing, Louise Duffy committed her remaining chips with a pair of sixes and was unfortunate to run straight into the eights of EPT Baden winner Thew.
Down to three players and Thew lead with 3,500,000 chips, ahead of Macdonald on 3,000,000 and Chattha on 2,000,000. With all three players being quite evenly matched and the fact the increases in prize money were quite substantial in that third place was £31,635, second £52,725 and first a whopping £90,188 it was unsurprising that the trio decided to discuss a deal. The initial deal, based on chip counts, was rejected but a second deal that saw Thew and Macdonald receive £60,000 each and Chattha £52,000, with Thew going into the history books as the Champion, was accepted and the tournament was brought to a conclusion.
Final table payouts
1.) Julian Thew: £60,000*
2.) Thomas Macdonald: £60,000*
3.) Sunny Chattha: £52,000*
4.) Louise Duffy: £22,200
5.) Sunil Mistri: £16,650
6.) Nick McLellan: £12,487
7.) Waheed Ashraf: £9,713
8.) Fraser Bellamy: £6,938
9.) Laurence Houghton: £5,550
*donates deal struck when three-handed
Picture courtesy of Blondepoker, who provided Live Updates from the event.
If you like live poker and love to party, you should play in the Rox Race to Brazil. An exclusive PokerNews Points Race to win one of three Brazilian Series of Poker packages from Rox Poker. April 20-May4.