Catman's Column - Interview With Rob Yong & Simon Trumper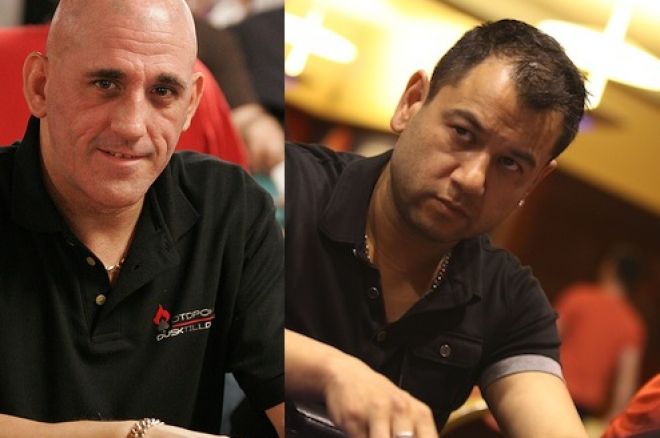 At this moment, my heart goes out for the 60 million odd US players who will be going through the pain of Black Friday, having been involved in the stock on market on several black days, all I can tell you is the pain won't last. It's not about justice; it is simply damm sad that so many regular players will have a stack load of cash tied up until some pen pusher returns it, to its rightful owner. It is certainly not for me to dwell on this horrific subject, so I wish all involved a speedy recovery. Let's face it, both Pokerstars and Full Tilt have performed miracles with our beloved game, it's not about the trillions they have made, it is simply about respect.
My last few weeks have been spent dodging in and out of venues and casinos, with an emphasis on tasting northern hospitality. First up was the deliciously sexy Pokerstars UKIPT at the G Casino Manchester, where I got to watch Catgirl take a Catnap at the table, whilst she sleepwalked and battled for the £74k first prize (Catgirl has since been disciplined).
The combination of a massive 612-player field of 'right nice' friendly people provided for a fantastic poker adventure. Of course an event like Pokerstars UKIPT provides the opportunity for the mass of low level bread and butter players (errr, that would be us) with a route to win very big, and not do one's proverbial bollox trying. Being a southerner means you do not get to savour the friendliness and good manners of our northern brothers and sisters on a daily basis. Going north, unlike going south, is always a good experience. My dear mate John, who is a member of the Royal Protection Team is Scottish, He says, 'I love going north, they still have a good old knuckle up with no weapons.' Harsh, but very fair.
With a very serious couple of month's ahead for millions around the world pondering over the future of US Online Poker, I have brought you some light entertainment in the form of Dusk till dawn's High Stakes Poker playing dog 'Numpty' and his Dad, Dusk Till Dawn Boss, Rob Yong. The number plate on Rob's super sexy black Aston Martin parked outside Dusk Till Dawn does, in fact, read DTD Boss.
I think a lot of my poker pieces are led by real admiration for those persons or brands, who are the subjects of my interviews. Rob Yong, Simon Trumper and the Staff of Dusk Till Dawn qualify for the ultimate in 'Respect.' So whilst Pokernews brought you all the action of PartyPokers monster TV 48 Hour Cash Game, I decided on a video with one feckin bright dog, and a man responsible for providing UK poker players with what is simply the dog's bollox of poker clubs.
The Catgirl and I made a long awaited return to the megalith of totally legal Poker Rooms, the mighty Dusk till Dawn. Life is far too short, and having not attended DTD since its opening is virtually a criminal act. Rob Yong and DTD were granted a full casino licence after a mighty battle with monster willy wavers. Baring definite similarities to Batman and Robin, Rob and Simon Trumper have without doubt been victorious. As with all things too good to be true, the beginning saw many who believed Rob Yong was in it to make a fast buck and then dump poker and become a full-blown Casino. It was close to four years ago that I met Rob in his VIP enclave playing the big game, now it was time to go back and chat some more. Two diamond geezers and one super bright poker playing dog, I feck you not one bit!
I hope the video gives you the desire to visit Dusk till Dawn if you haven't yet made that trip, it is so very special. For those of you who did not watch the sensational live streaming coverage of Partypoker's 48 hour cash game on Pokernews, I bring you the words of Matchroom's TV guru Eddie Hearn:" TV Poker needs to capture the imagination of the existing viewers and shows need to be re invigorated with new formats and structures that players will appreciate and the audience wants. You have to respect your audience, understand what they want and then deliver."
Well, hats off to Eddie Hearn, Pokernews and all at Matchroom, TV poker has just reached the next level.
PokerNews officially boasts the best bonus in online poker on PartyPoker. Not only can you get $50 for Free, No Deposit, you can also cash in on an exclusive $50 Reload Bonus too. Check out our PartyPoker Free $50 Page for more details.