Fox Poker Club Hosts Villas4Veterans Charity Evening

Jonathan Fey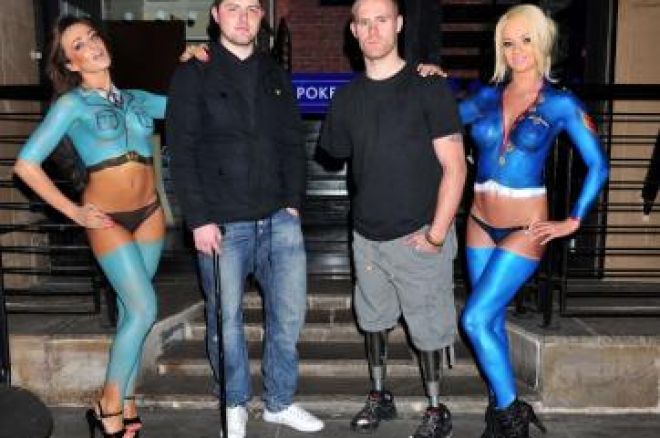 The Fox Poker Club in association with PKR, has helped contribute to a 'place in the sun' for injured soldiers, after a fundraising evening for the Villas4Veterans charity last week.
The night was hosted by charity founders Royal Marine Mark Ormrod and Paratrooper Dave Tatlock, at the Shaftesbury Avenue venue last Tuesday, 22nd March. Two stunning models from Platinum Lace were on hand to help out throughout the evening and pose for photos with guests.
Villas4Veterans is aiming to raise around £2 million to purchase a customised villa fit for seriously injured soldiers to visit after they have completed rounds of intense and often punishing rehabilitation for necessary R&R.
Chris North, Managing Director of Fox Poker Club, commented: "It was an absolute pleasure to be able to host the Villas4Veterans evening and we're thrilled that it was a great success. The charity is raising money for a fantastic cause and we're glad we were able to give back a little for the heroes that have fought for our country."
Founder Mark Ormrod, who was grievously wounded in Afghanistan, said: "We are doing all we can to raise money to buy a villa to help the recovery of all injured servicemen and women. Fox Poker Club has shown us overwhelming support by staging our charity poker tournament and we would like to send them our heartfelt thanks for believing in us and helping to raise money to help our injured soldiers and marines."
His partner in setting up the charity, Dave Tatlock, a paratrooper who was shot in the back in Afghanistan, added: "Poker is a great way for people to have fun and raise some cash for a good cause at the same time and we hope this is the first of many such events with the Fox Poker Club. A huge thanks to all at Fox for their commitment in supporting us and for all their help on the night."
If you want to donate to another worthy Forces charity and play some great poker, check out the Poker For Heroes event at Dusk Till Dawn in May.