888 Poker Partner With APAT for Season 5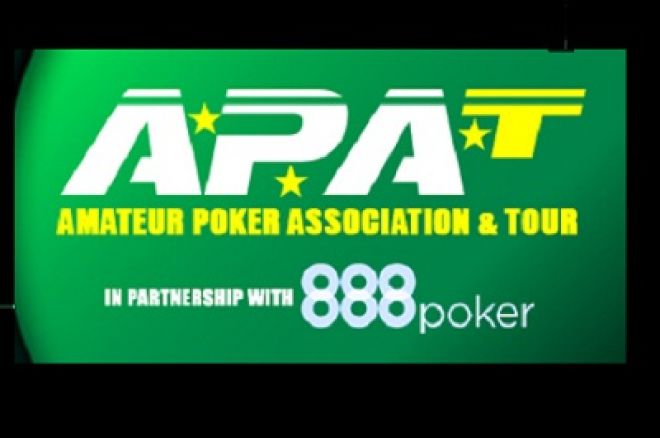 The Amateur Poker Association & Tour (APAT) has announced details of the fifth season of its critically acclaimed tour for developing poker players. In partnership with 888 Poker, the season will contain a series of eighteen National Championship events in addition to a five event Specialist Series.
Seasonal highlights include:-
888poker Partner APAT: APAT will be headline sponsored by 888poker, in a deal that will see value added professional event seats awarded for APAT Amateur and Online Champions. 888poker will exclusively host all APAT direct buy ins, online Championship events, satellites and the National Online League.
APAT Goes Stateside: APAT will host an event in the US for the first time with the American Amateur Poker Championship in November. In addition, the European Amateur Poker Championship will be held in Prague in the final event of the season.
Home International Championship: The Home International Championship is a new event, added following the success of the European and World Amateur Team Championship events. This event will feature 'A' and 'B' International Teams from England, Scotland, Wales, Northern Ireland and the Republic of Ireland.
APAT To Crown Definitive Pub Poker Champions: The APAT UK Pub Poker Championship is a new event that will debut in season five which will identify once and for all, the Champion Pub Poker League and Individual Player in the United Kingdom and Ireland.
Specialist Series: A five event specialist series will take place on the Sunday of the Amateur Championship events in Coventry, Newcastle, Cardiff, Glasgow and Cork. The series will feature tournaments in Omaha, Stud, Six-Max, Razz and Hold'em.
The first event of the new season will be the 888poker English Amateur Poker Championship, which will be played at the G Casino in Coventry on March 26th & 27th.
National Amateur Championship Schedule:
Mar 26 – English Amateur Poker Championship – Coventry (2 day)
Apr 21 – United Kingdom International Home Championship – Newcastle (2 day)
Apr 23 – United Kingdom Amateur Poker Championship – Newcastle (2 day)
May 28 – Welsh Amateur Poker Championship – Cardiff (2 day)
Jun 25 – United Kingdom Pub Poker Championship – Blackpool (2 day)
Jul 30 – Scottish Amateur Poker Championship – Glasgow (2 day)
Aug 25 – World Amateur Team Poker Championship – Nottingham (2 day)
Aug 25 – World Amateur Stud Poker Championship – Nottingham (1 day)
Aug 26 – World Amateur Heads Up Poker Championship – Nottingham (1 day)
Aug 27 – World Amateur Poker Championship (main event) – Nottingham (3 day)
Aug 27 – World Amateur HORSE Poker Championship – Nottingham (1 day)
Aug 28 – World Amateur Six Max Poker Championship – Nottingham (1 day)
Aug 29 – World Amateur Omaha Poker Championship – Nottingham (1 day)
Sep 24 – Irish Amateur Poker Championship – Cork (2 day)
Oct 22 – United Kingdom Team Championship – Luton (2 day)
Nov 19 – American Amateur Poker Championship – Las Vegas (3 day)
Dec 10 – The Masters Pro Am – London (2 day)
Jan 28 – European Amateur Poker Championship – Prague (2 day)