Gareth Walker Wins Record-Breaking PokerStars UKIPT Nottingham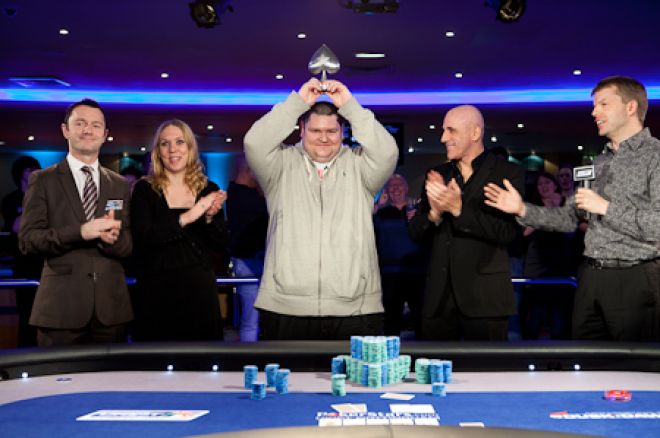 Newcastle United may have lost their star striker Andy Carroll but they have gained a new hero in Gareth Walker, who just hours ago bested a record field of 1,058 players at the Nottingham leg of the PokerStars UK & Ireland Poker Tour for a career best score of £109,000.
Last year there 650 poker players descended on the Dusk Till Dawn poker club for the £500 Main Event but a staggering 478 hopefuls took part in this year's Day 1a, and what a star-studded field it was. Over the course of 11 one-hour levels the likes of Liv Boeree, Kevin MacPhee, Julian Thew, Karl Mareholz, Marc Goodwin and Neil Channing came and went and when play finally ended for the day it was one of British poker's stalwarts who sat atop of the chip counts, Dave "El Blondie" Colclough with a stack of 224,300 chips.
If you thought Day 1a was a large crowd then Day 1b was a monster as 580 players parted company with £500 in exchange for 15,000 chips meaning a total number of 1,058 runners, making UKIPT the largest-ever poker tournament held in England! Part way through the day it was announced that a total of 128 place would be paid, with the winner walking away with a wallet-busting £109,000. Some of the biggest names in the field not to make it through to Day 2 and a chance of the money included James "Flushy" Dempsey, double UKIPT winner Nick Abou Risk and EPT and WPT winner Jake Cody.
A total of 215 players returned to the impressive Dusk Till Dawn poker room for Day 2 and within just over two hours of the restart, the bubble had burst. Although three players were eliminated on separate tables during the same hand it was Lithuanian Dainuis Antanaitis who receives the unwanted title of "Bubble Boy" as his


fell victim to the


of Paul Schwarz. The plan for Day 2 was to play down to the final table of eight but after 12 long levels Tournament Director, Toby Stone, made the decision to pause the tournament with 12 players remaining, lead by Mike Hill, making his fourth UKIPT cash, with 2,422,000 chips.
Play resumed at 1615 yesterday and within an hour the tournament had lost it's first player. Ian Gilchrist opened the betting with a raise to 75,000 from under the gun and when the action folded around to Stephen Fitzpatrick in the small blind he moved all in for a total of 611,000 chips. After asking for a count Gilchrist made the call and flipped over


which was up against the


of Fitzpatrick. The final board ran out





and the tournament was down to 11 players.
Shortly after Fitzpatrick's demise there were two eliminations in quick succession. First Nick Slade made a move with


and could not suck out against the


and he was joined on the rail by Khoa Nguyen who found himself short stacked and he open-shoved with


, was called by Chris Dowling, who was holding


and when the board ran out





the nine surviving players assembled on an unofficial final table.
They played nine-handed for close to two hours before Ian Gilchrist headed for the cashier's cage to pick up his £5,800 prize money. With blinds at 30,000/60,000 and a running ante of 5,000, Gilchrist open-shoved for 370,000 with


and found an unwanted caller in the shape of German Tim Bettingen holding


and when neither player improved on a board reading





the official final table was reached and each of the surviving players was guaranteed to walk away with no less than £7,950 for their efforts in this record-breaking tournament.
Two more hours of intense poker took place before no fewer than three players busted out in relatively quick succession. First, David Heaton's


was no match for Chris Dowling's


with the money going in preflop, then Romano Pizzo's


out-flopped Thomas Rolfe's


to make play six handed. The very next hand after Rolfe's exit, a cruel hand took place. With blinds now 50,000/100,000/10,000a Brett Angell opened from under the gun with a raise to 275,000 and when the action folded to Dowling he moved all in for what turned out to be 1,440,000. Angell had him slightly covered and made the call before revealing his hand,


which was up against


! Just as it looked like a split pot the dealer put out the five community cards,





, giving Angell a flush and the pot! Earlier Angell lost a huge pot as a 98% favourite when he flopped middle set and his opponent hit running aces to almost stack him so some may say justice was served, but not Dowling!
Mike Hill was the next to head for the rail, in fifth place, after making a move at the worse possible time. With the board reading





he moved all in with complete air,


and Romano Pizzo could not believe his luck as he was sat there with


in his hand for a full house! Hill picked up £24,350 for his efforts. Four then became three as Pizzo opened for 500,000 and then called when Tim Bettingen moved all in for 2,900,000, the latter needing some help from the board as his


was behind the Italian's


. Bettingen pair one of his cards on the



flop but when the turn and river came the

and

respecitvely, it was game over for the German and Pizzo became the chip leader with 10,000,000 chips, almost two-thirds of the chips in play.
Despite his gargantuan stack, Pizzo could not hold out for the win and at 0335 in the morning he had lost every chip in his stack and was heading for the rail, albeit £40,750 richer. He moved all-in for around 2,000,000 chips with


and was called by the


of Gareth Walker. No improvement from either player on a





board and Walker's seven kicker came into play and scooped the pot.
Going into heads up Walker held an 11,000,000 to 4,600,000 chip lead over Angell and it only took him an hour to press home this advantage. At the unholy hour of 0430am and with blinds of 200,000/400,000, Walker put 4,500,000 into the middle with the lowly


and Angell called off his stack with a much better hand,


. It really was not Angell's day, having lost as a 98% favourite earlier and then lost with aces versus Walker's king-queen when three handed and his bad day was completed as the dealer put out the





board, giving Walker a winning flush and resigning Angell to the £68,700 runner-up prize.
Walker, who finished sixth in the UKIPT Main Event here at Dusk Till Dawn last year lifted the trophy and received £109,000 for his win, a career best by a long way. He plans to invest his winnings into his poker career and play all the UKIPT events this year, after buying himself a new shiny motor. Congratulations to Mr Walker and everyone else who cashed in the largest-ever poker tournament held in England.
Final table payouts:
| Position | Name | Prize |
| --- | --- | --- |
| 1 | Gareth Walker | £109,000 |
| 2 | Brett Angell | £68,700 |
| 3 | Romano Pizzo | £40,750 |
| 4 | Tim Bettingen | £31,700 |
| 5 | Mike Hall | £24,350 |
| 6 | Chris Dowley | £19,050 |
| 7 | Thomas Rolfe | £13,750 |
| 8 | David Heaton | £7,950 |
Jake Cody Wins UKIPT High Rollers Event.
Not a bad 24 hours for Jake Cody, the EPT & WPT champion not only bagged himself two European Poker Awards (accepted by Simon Trumper in Paris) but also added a third title in a day by winning the £1,500 High Roller event for £42,000 after over coming a tough field of 80 players, including Dave "Devilfish" Ulliott who finished in fifth place.
The next leg of the UK & Ireland Poker Tour takes place in Manchester in March. You can qualify for this exclusively at PokerStars and also take place in our $15,000 Sunday Million Freerolls, exclusive to players who have registered a new PokerStars Account via PokerNews