FOX POKER CLUB WELCOMES 10,000th MEMBER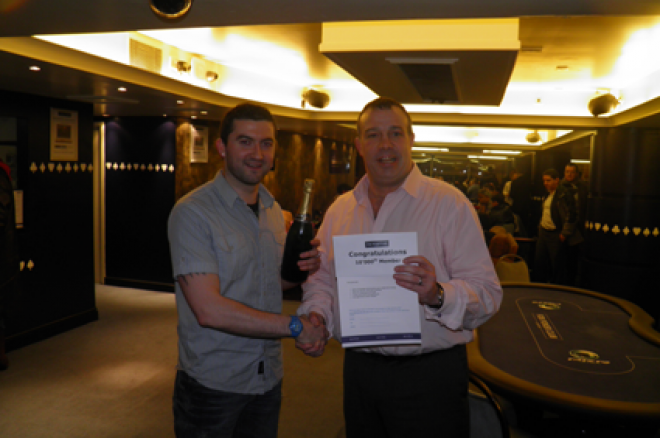 London's only dedicated poker venue, the Fox Poker Club in association with PKR, has welcomed its 10,000th member, just four months after opening its doors on the world famous Shaftesbury Avenue.
As a reward for unwittingly being issued the Fox Poker Club's 10,000th membership pack, David McSkimming, of Royal Arsenal, was awarded a fantastic prize package of free entry into February's main event tournament worth £325, upgrade to 'Full House' membership worth £250, a dealer dealt table for ten people plus a night's stay at the exclusive Fox Club in Mayfair. Fittingly, the club's membership broke into five figures during ICE, the betting and gaming industry's largest exhibition, currently taking place at Earls Court.
"What a fantastic surprise, a total shock! Myself and and group of mates had come along tonight to play at a private table, so I think we'll now crack open a couple of bottles of champagne," said Mr McSkimming upon hearing the news.
After scouring London for the perfect location and securing a full casino license from the Gambling Commission, the team behind the new venue were confident of success. However, even they are shocked by just how quickly the Fox Poker Club in association with PKR.com has established itself as the home of poker in the UK's capital.
Chris North, Managing Director of Fox Poker Club, commented "To have welcomed 10,000 members in such a short space of time is fantastic, and the whole team at the Fox Poker Club in association with PKR.com sees it as a massive reward for all the toil and perseverance over the last year.
"Before we opened towards the end of 2010, everyone we spoke to couldn't believe that a city with as much to offer as London was without a dedicated poker venue. We're pleased to have successfully opened up not only a great place to play poker, but also one that poker fans can call home. We look forward to welcoming another 10,000 members!"
We are tired of tiny freerolls, no doubt you are too. If so then check out our $34,000 Monster Pot Freeroll series with Poker770 – only a $20 deposit and 20 poker770 points to qualify.