Catman's Column -Would You Sell the International for £2 Million?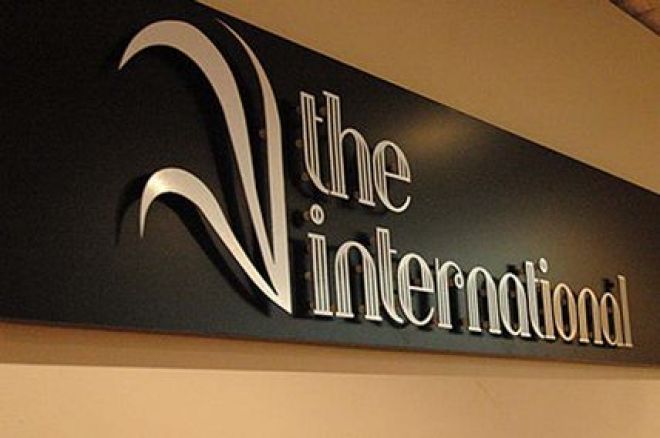 Roland De Wolfe learnt his trade playing poker at the immortal Gutshot Poker Club London, before going on to win the WPT Paris, which was indeed his start to Poker fame and fortune. This week our love and deep admiration goes out to Ruski sister Nikitina Natalia, who became the first female champion in a World Poker Tour National Series event. Her last score was a second-place finish in a 300-euro buy-in Ladies event at EPT Vienna. I discussed this with Catgirl, " The women are coming, some men do not like to play poker with women, their Ego takes over and they lose control playing women. Women do not have Ego's, that is why they are winning," profound words and so true. The Catgirl does not speak often but when she does, it's best to listen. Women may well be more 'Risk Averse,' in poker and life but it seems like a viable strategy. I just love seeing women come into the game, and with a 243,830 Euro win Natalia Nikitina is going to have some good fun. The WPT's look like an excellent opportunity builder and Starmaker.
The WPT in Paris is a star maker for sure, but for those with a little less and wishing to improve their skill set, we will continue our guide to live poker in London, to which there is no lull in applicants. I believe they are spending a good 30-40 million on the Hippodrome Casino Leicester Square, hopefully a poker room too.
My background in the leisure industry and night venues, leads me to see the at the crap that is generally on offer in today's service industry. Tops of the list for minimal effort are the casino's of course, where customer relations mean feck all. But the proliferation of poker venues is a delight, and things are really beginning to change for the punter. I called the Vic and by chance got the legend Brian Masterson on the dog and said I was impressed by the guarantees on offer at The Vic Events. "Oh yes Catman we are really trying to please our clientele," said Brian, possibly the most sincere card room manager in history.
The next night we popped along and noted that The Vic has finally pulled it's knickers down and is blasting away at the oppos with an AK47, the room is a monster. "Can we eat something in the restaurant, I don't want to eat with the peasants," enquired the normally very meek Catgirl. For fecks sake, I spend half my life instilling controlled aggression into the Catgirl for that very moment she needs it, no idea who she got that phrase from. Which reminds me, while most people would be happy to get a call from Victoria Coren any time, Head of 'Fat Fecks United,' Michael Winner went into a public Twitter rant about such a call. Firstly 'Death Wish,' secondly a question; 'Why not turn your phone off in bed.' Apparently Winner has 87 lines for some reason, whilst The Victoria Grosvenor Casino has simply one of the best restaurants in London. The Catgirl ordered a Duck starter, which was not only a visual sensation but tasted like freshly sliced Leopard, it was simply exquisite. By 10.30pm or so, albeit on a Saturday night, the tourney had 80 odd runners, but of more interest than Jordan Katie Price's tits was the 14 or so cash tables. Tell me where in Europe on a standard non-Festival/Special Event Saturday night do you find 14 cash tables. Plenty of choice from £25-£100 stacks to £5k to £15,000 stack games, so no need to be shy.
Coming right back around and hitting you bang in the face, that big circle of competition is stimulating growth, every card room is going to have to slug it out for our money and about time too. Eventually we will get everything we deserve and more. As virtually always Catgirl finaled at the Vic for a few quid and there was absolutely nothing to fault at The Vic, it was superb.
Continuing our tour, this week we meet one of pokers true thespian's and someone who many of us must thank for providing with a vast breeding tank for the next huge generation of Poker players and money. Years back the Headlines in one of my Pokernews stories read, 'UK's Most Important Court Case in Poker History,' and the famous Gutshot court Case, 'Is Poker A Game of Skill,' even made the BBC TV News.
Barry Martin first invited me to his Gutshot Pub game where I met his future partner Derek Kelly. A few weeks later in Jan 2004 the 'Gutshot' on Clerkenwell Road opened and changed the face of British Poker. Finally a venue catering as a lowstakes entry point for the youth and geriatric alike, new players that so wanted to emulate the likes of Chris Moneymaker. The Gutshot was a buzzing community of players, many of who have matured in today's stars, including the likes of Roland Bad Boy DeWolfe, Praz Bansi, Sunny and Chaz Chatta, Karl Marenholz and did I mention James Akenhead? The Gutshot was based around an online forum, which led the uprising of those who felt poker was a game for all. The forum was led by the delightfully infamous 'Sweet Baby Jane,' without doubt the greatest poker forum commentator of all time (Did I say I once started to track her down I was so enamoured). There was so much to love about the original Gutshot concept, which was in fact started by Barry Marin's love for the game of poker, the fact that it turned into a cash monster, is neither here nor there. Tragically, The Gutshot closed in Sept2008.
Fortunately for those close to the brand, a spanking New Venue, the International opened in 2008, it brought along many of the staff and players from the Gutshot cardroom. The International operates on a Club Gaming Permit and conforms to the 2005 Gaming Act, like the other 50 or so members clubs around London, it even offers Scrabble tournaments, which is quite a big relief as far as I am concerned. However above all, the International will offer you the street like brand qualities that rocked the Gutshot. The International is a full on Poker Venue and like The Vic, it's management boasts some iconic superstars, in the case of The International, the great Johnny I. Iconic is a fair word for everyones friend, Johnny I.
Barry Martin has recently brought in monster stack events, and feck the level structure, it has gotto be fun having a huge chip stack lol, a bit like coming into money or having a w**k in the bank. The staff is a good bunch, the waitresses are on the ball, the food good and the live Webcast Final TV table vomits. From information received the club is booming and has not noticed any loss of custom to The Fox. For those new to London and new to poker, The International will offer a game for all low level players, and never forget the mighty acorns that have arisen from this streetwise poker Emporium. I have also been informed that the name Gutshot has no connection with Porn movie direction. Thinking back on it, the Gutshot and the International have always packed a very cheeky punch. Recently there was much hoo haa as to whether the International was up for sale, so I asked Barry Martin in the Vid below. Is my Ass for sale, no way, sorry did you say £2 million errrrrrrrrrrrmmmmmmmmm.
Ed Note: Slick video skills Catman, you could barely hear Catgirl screaming "9 minutes" at you.
The Vic (Marilyn Monroe), The Fox(Ashley Haynes) , The International (Kate Moss) are the three live poker we have visited on our journey so far, all providing poker, each with a different twist. If you were visiting, I would suggest all 3. One of them is missing biscuits for Tea dunking at the moment, but we won't go into a hussy fit on that, will we. Each will give you a game of poker, but each has it's own very distinct identity and vibe, all will continue to prosper, providing they never get complacent or arrogant as was certainly a feature of times gone by.
Peace Love and Happiness
Catman Poker Brat
They are back! $45,000 in Sunday Million Freerolls on PokerStars on PokerStars exclusive to players who have registered a new PokerStars Account via PokerNews