Book Review: Don't Listen to Phil Hellmuth

Jonathan Fey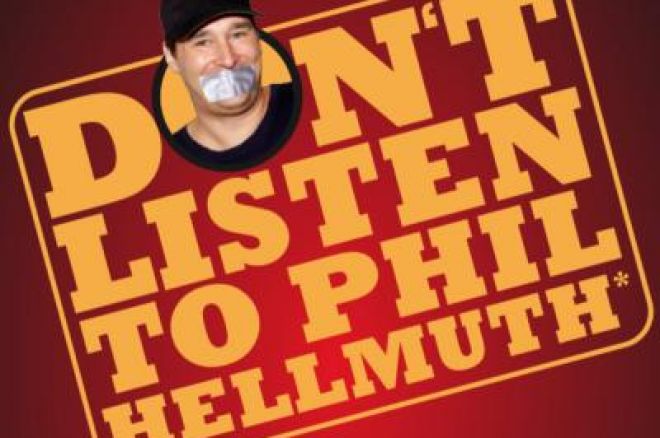 You should never judge a book by its cover, but what about its name? It's rare that the title of a book alone has captivated me to read it, but that's what happened with Don't Listen to Phil Hellmuth by Dusty 'Leatherass' Schmidt and Paul Hoppe. While there is no doubt that the name has been deliberately picked to be provocative and sell copies (And its worked) it is also symbolic of a change in the focus of poker books.
Where other than poker could there be a non ironic book title advocating we all ignore the advice of one of the games most successful players? There would never be a 'Don't Listen to Roger Federer, Alex Ferguson or Tiger Woods' title for example. Poker is different, because few games have evolved so quickly that the old guard can get called out like this with some authenticity.
The book doesn't just call out Phil, it simply uses him as the main target, the actual aim is to challenge 50 of some of the most questionable bits of poker advice advocated by old school poker champions. Advice that Schmidt and Hoppe clearly thing is damaging in today's game such as "Never Bet The Minimum", "Don't Bluff In Multiway Pots" and my personal favourite "Lead Out To Find Out Where You Stand."
The chapters are short and don't need to be read in order, which is a good aspect of the book as I was able to jump straight to the chapters I found most relevant to my own game. After these 50 sections there is a '25 Hands with Leatherass' section followed by a study section. This was a nice addition because I actually thought initially that the book would simply slag off Hellmuths advice then end, but it instead gave the book a more complete feel overall when it could otherwise have felt disjointed.
For me, Don't Listen to Phil Hellmuth ultimately comes down to two major things. First of all it is a clear changing of the guard. Don't get me wrong, the online generation have dominated poker for a while now, this is just the final nail in the coffin for the 'TV Pro'.
Secondly and in a more practical sense, this book is a superb leak buster. I'm not sure whether the aim was to revolutionise the way the reader plays but what I got out of it was much more about tightening up a handful of key spots where I was messing up and no doubt costing myself a fortune in the long term.
This is probably less a book for a new or micro stakes player and more a great read for someone who has been around the game for a long time and in a bit of a plateau. This is much more of a low to mid stakes handbook designed at getting out of a rut than it is a holy grail to get you into the nosebleeds. That said, it is succinct enough, funny enough and insightful enough that almost every player can get some benefit out of it.
Hopefully they won't try and follow this up with Don't Listen To Phil Ivey, because that would be a bold title.
Don't Listen to Phil Hellmuth is available at DustySchmidt.net
Deposit £20, get an instant £20 in your account followed by an exclusive $50 bonus from PokerNews after 75 points. Thats around $80 for a $30 deposit, when you sign up to WSOP Online via PokerNews.