PokerNews Players Destroy the Pros in the First Lock Pro Supremacy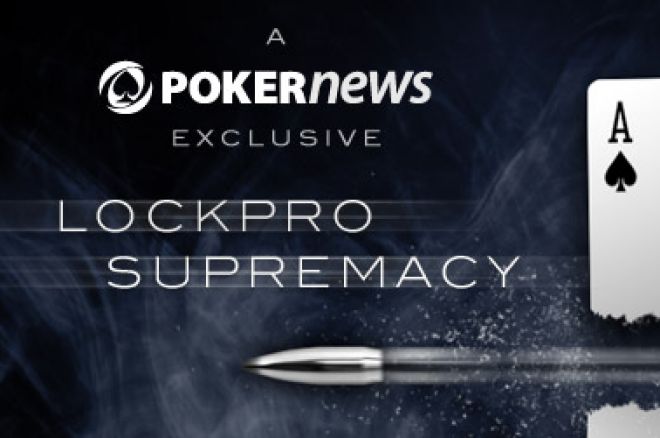 The first ever Lock Pro Supremacy concluded last Thursday and what a fun packed event it was. This unique freeroll series not only includes a $7,500 Prize Pool but also 25 Lock Poker Pros, all of whom had a $100 bounty on their head.
The first event featured 370 players in total, meaning 2 out of 3 tables would feature a Lock Pro. You guys really showed the Lock Pros a thing or two because not only did not a single one of them make the money, none of them picked up a bounty either. 50 PokerNews Players made the money and another 15 didn't cash but did pick up a $100 bounty, meaning 65 players in total did not walk away empty handed – that's better than 1 in 6.
The eventual winner was 1987gajdymoney who picked up $1,950 for first prize, but amazingly didn't pick up a single bounty along the way.
If you like the sound of this unique series, there are three more on their way:
$40,000 Lock Pro Supremacy Schedule

January 20, 20:00 GMT – 6 Max. Brett Jungblut
February 3, 20:00 GMT Hosted by Eric Lynch
February 17, 20:00 GMT- 6 Max Hosted by Stevie Devlin
How to Qualify
Make a $50 deposit using bonus code PNEWS1000
Earn 50 Lock Poker Points in each tournaments qualification period
Existing PokerNews referred players are also welcome to play providing they have made a minimum of $50 deposits life time and meet the point's target. Once you have deposited $50 or more, all you need to do for each tournament is earn those 50 Lock points.
50 Lock Poker Points is equivalent to $5 gross rake and can easily be generated over several cash tables or SNGs in an hour or two. What's more, new PokerNews referred players can make the most of a sign up bonus you cannot find anywhere else – 200% up to $1000 when you use bonus code PNEWS1000
Players please note that Lock Poker Support worked very hard crediting everyone with their tournament tickets so don't worry if you don't receive it right away. If you have any problems don't forget to use their excellent live support team who work 24/7.
Lock Pro Supremacy is going to be huge so download Lock Poker, make a deposit of $50 or more, enter bonus code PNEWS1000 - and get ready to start scalping!