Catman's Column - Isildur1, All You Can Eat Sushi and Gary Mason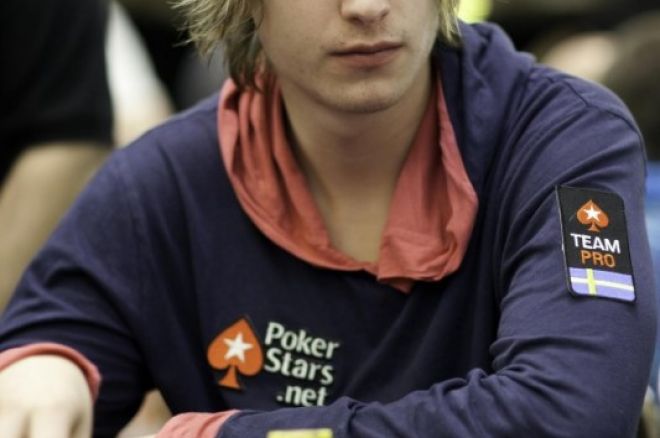 Isildur1 is out in the open.
The unveiling of Poker's microcosmic legend came about at the Pokerstars Caribbean Adventure with the announcement that Pokerstar's acquisition of Swedish superfeckinstar Viktor Blom, alias Isildur1.
Poker stardom is probably less fickle than most other forms of stardom, but a special kind of shit is required to keep the interest of the poker playing public. Viktor 'Isildur1' Blom has enough shit to build a planet, he has everything any poker company could wish for as their sponsored player.
Isildur1 proved sensational to watch when he first appeared at WSOPE at the age of 18, in fact a quick youtube search will tell you everything you need to know. Isildur1 is made of plutonium, his aggression is vitriolic, and he is the epitome of enthralling. Now these comments still fit even when you don't know that he has been through $6,000,000 or so online in the space of a year, or that he has been in most of the biggest pots ever online and that he is pure genius.
Not verging on insanity, Isildur1 is a Hippo on crack, nothing will stand in the way of might Isildur1. On top of that he is blessed with Brad Pitt style looks, charisma and style that will only develop as the finest Claret would. Pokerstar's has bottled the Madness of King Isildur1 and the joining of these forces is somewhat unique. Virtually all of PokersTeam have won EPT's or massive tournaments, Isildur's best live result was an 18th at WSOPE. The signing of the man who changed every railbird's life for good, is a marriage made in heaven. Pokerstar's have made the greatest and most meaningful signing in Poker History, who is more exciting, fearless and interesting than Isildur1? A man who lives by such a sword, cannot be left to die by such a sword for his value is priceless. The story of Viktor 'Isildur1' Blom has only just begun, and it is one of the only books's I am desperate to read. Now all I have got to do is to go get an interview with the geezer.
That aside we have spent some of January playing micro tournies at The Fox, continuing the never ending training run for The Catgirl and spending relaxing time for myself. So Catgirl wins 1, finals 2 and I final 1 and we are up a good few bob, a wildly more exciting prospect than the thousands we spunked in sats for WSOPE and others, pre Christmas. Poker a game of Gentlemen, rules and etiquette, what a load of Feckin bollox.
Having read all of the legendary Mike Caro books and even made my only every Ebay purchase buying his DVD's, I love trying to be a psychologist at the poker table. I believe I am a master of self-control and patience, lol. So there I was in a £60 - 3-2-1 game and pick up Kings in the big blind, I could not resist but to hold my card's in the air as if I was going to muck to the slightest raise. Of course no mug is taking any notice and it is folded round to the small blind, who puts 1300 chips over the line, then quickly drags them back and puts 600 in, stating he only meant to call. Oh buggerations, Mr Billy Big Bananas - that's me - pipes up, makes the kid stick the 1300 in and insist on calling for a ruling. The 20 something geezer who was the small blind then exclaimed you only made me do that because you had a big hand and were pretending to throw them away. This kid was on the ball, he spotted my fake pass move by why the hell did you want to call or subconsciously raise in the first place I thought.
Well the whole thing got heated, I would not back down as I wanted him to accept that he was out of order and told him to play like a man and by the rules etc etc. Next hand said oppo tilts his remaining 6,500 chips off to the player to my left and gets up to leave. This was no kid, this was a 6 footer who I am sure could have landed a mighty slap to the said Cat if he so deemed as I sat tensed in my chair as he left. He broke the rules, he wanted to make a drama and I obliged. In ten years plus of live poker, the only other time I can remember raring up, is when Mad Mark spilt a coke over me at The Stakis Dungeon. Lessons learnt, anger management is vital and never ever underestimate your opposition. I may well have waved my mighty sword, but I spent the next hour or so, worried about getting stabbed in the back and the following 5 hours waiting for Catgirl to cash :-)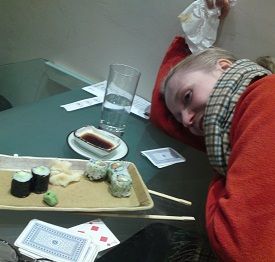 With my head still in my hands, The Catgirl invited me to hit the all you can eat Sushi Bar, alas The Catgirl does not relish in the delights of Nando. We had first tasted the delights of the Hi Sushi on Hampstead High Street, two days prior. Basically you go along and get a sensibly limited all you can eat style offering if that makes sense, controlled by a number of rules. With service and a couple of mineral waters, you are looking at £40 for 2 with the customary service charge, it's all furry mufff. So two days later we return, Catgirl orders the buffet I order a cooked dish which costs about £16 squid. " You must not eat her buffet," exclaims the Chinese waitress, the alarm bells starts to ring and the psycho cat is nearly out the hat again. "What are you talking about, I am ordering a dish that cost more than the buffet, what are you talking about, I don't see this on your list of rules." Catgirl gives me a nudge and gives me a quick reminder she is hungry and that I might button it. Food is demolished and I tell the Kitten to order more sushi so I can continue my pigging.
Payback time comes in the form of 12 Avocado and Prawn Sushi that I need to stuff down or face the food wastage charge, lol. The moral of the story, always know the rules and ensure they are displayed, never be greedy, never go to a place where they have no idea of service.
Two weeks ago the great Ex British Heavyweight champion Gary Mason got knocked of his bicycle and killed. If you know anything about boxing you would have heard of Gary, a diamond of a man who once saved my ass from a major kicking by the ICF whilst I was with the boxer Nigel Benn under the Arches somewhere in a South London Rave.
My next video interview will be the Great Chufty AKA; Richard Ashby as soon as he returns from winning events in Australia.
My very clever editor, Mr Barry Carter is about to publish his first ever book, watch Pokernews for the next update, it is going to be good.
Peace, Love and Happiness
Catman
Poker Agent
We are tired of tiny freerolls, no doubt you are too. If so then check out our $34,000 Monster Pot Freeroll series with Poker770 – only a $20 deposit and 20 poker770 points to qualify.