APAT UK Amateur Team Championship + Champion of Champions Results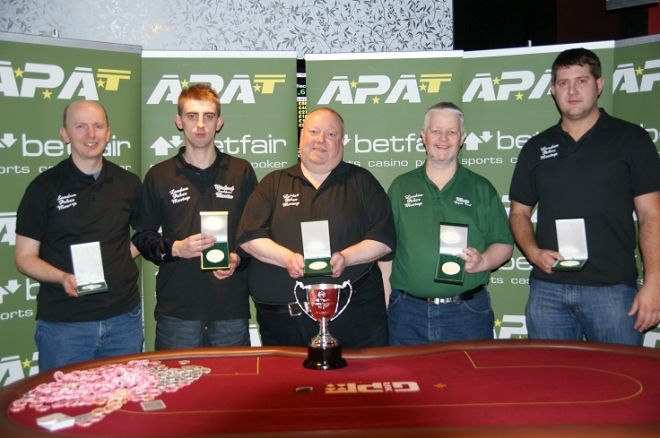 APAT's successful fourth season concluded at the G Casino Bolton over the weekend with the UK Team Championships and the Champion of Champions event.
The winners of the Online and National Amateur Rankings joined the Amateur Champions from season four to compete in the APAT Champions Final, to play for an APAT £20,000 sponsorship package in 2011, provided by Betfair Poker.
The eventual winner was Warren Jones who beat Max Kruis to a £20,000 sponsorship package from Betfair Poker.
Over in the UK Team Championships a number of forums and communities did battle, with 50% of the prize pool awarded to the overall winners and the other 50% to the best finishing teams. Niall Farrell of the BlackBelt Poker Team went on to win the individual tournament, his team also came 2nd in the Team category. The London Poker Meet Up went on to capture the team honours.
Individual Championship
1 Niall Farrell £1,200
2 Linda Godfrey £650
3 Mark Trett £400
4 Michael Martin £250
5 Hugh Black £250
6 Andrew Cairns £250
7 Matthew Carter £250
8 Andrew Young £250
9 John Murray £250
Team Championship
1st London Poker Meet Up £2,500
2nd BlackBelt Poker £1,500
3rd Gambling Network Forum £1,000
This event concludes APAT's fourth season, stay tuned for news on season 5 soon.
We are tired of tiny freerolls, no doubt you are too. If so then check out our $34,000 Monster Pot Freeroll series with Poker770 – only a $20 deposit and 20 poker770 points to qualify.