Last Chance for UB & Absolute Poker $1,500 Freerolls This Weekend - Just a Deposit Required to Play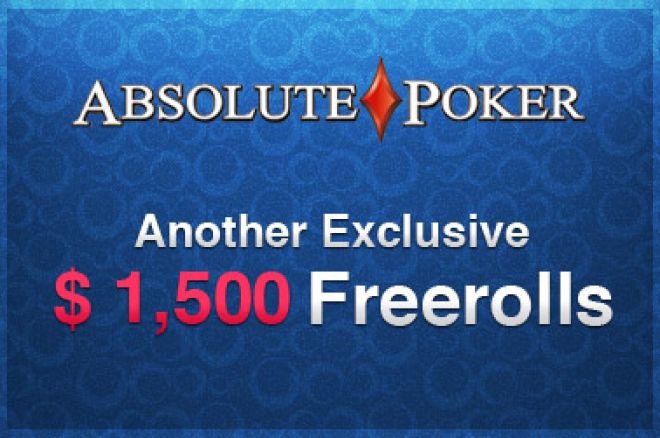 The last freeroll in our current $1,500 Series with UB & Absolute Poker is on the horizon and it couldnt be easier to play in this Sunday's tournament.
All you need to do is download UB Poker or download Absolute Poker and make a minimum deposit before December 16 at 23:59 GMT.
If you have already signed up to either poker room via PokerNews then all you have to do to participate is play 150 raked hands in each tournaments qualification period. This is much easier than a points requirement because you can reduce your variance by playing micro stakes and easily can grind the hands out in an hour if you play multiple tables.
Qualified players will be able to manually register for the freerolls 24 hours after the close of qualification. The tournaments take place on the following dates at 14:35 EST and pay out as per UB/Absolute Poker's standard payout structure..
If you already have an non PokerNews UB or Absolute account, then you can just sign up to the other room via PokerNews and you are in. If you already have an account via Club PokerNews than you can still sign up to the other room anyway just to make the most of the two deposit only freerolls you get for signing up – no raked hands needed!
Of course while you are grinding out those 150 hands per tournament, it may interest you to hear that both rooms have an outstanding 100% up to $1,200 sign up bonus – one of the biggest bonuses in poker!
Just make sure you remember our bonus codes, UKPN for Absolute Poker and UKPNEWSUB for UB Poker.