Gus Hansen Wins Full Tilt Poker Million IX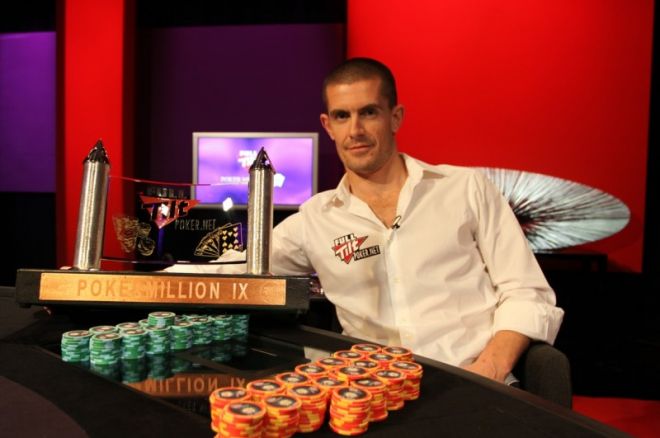 Gus Hansen is celebrating being $1 million richer after taking down the Full Tilt Poker Million IX in front of a Live TV audience on Sky Sports last weekend. The Dane bested the toughest ever table assembled in the tournament, beating Patrik Antonius, Howard Lederer, Barny Boatmen, James Bord and Brighton Chairman Tony Bloom along the way.
Hansen claimed his first WSOP bracelet with victory in the No-Limit Hold'em Heads-Up High Rollers title in London in September and returned to the capital to defeat Bloom in a rather shorter heads-up contest than the one he picked up his bracelet with - holding a slender chip advantage against Bloom and one he coveted into victory in the second hand, raising with A 8 and calling after Tony shoved with A 6 - Gus hit an eight on the flop to strengthen his grip on the million dollars and avoided any drama to finish the job.
"I do have a very aggressive image and I got reraised a couple of times when I shouldn't have played so I slowed down a bit and got my reward with some luck," said Hansen. "But I got put in some tough spots and I made the right decisions so I'm pleased with how I played.
"I would be lying if I said I knew exactly what he had at the end. It's a big raise, it's basically going to be the deciding hand and Tony had been very aggressive three-handed and I thought he would continue that aggressive play heads-up and I felt I had enough equity to make a stand.
"There are a lot of great players in this tournament and it's always great to get your hands on a trophy. I had a little drought in tournaments but the last couple of months have been good and I'm feeling confident which you need to be when you sit down with tough players like Tony.
Tournament organisers Matchroom Sport have promised to pull out all the stops next year when Poker Million gets its tenth outing.
"Poker Million is one of the few remaining poker majors that has truly stood the test of time," said managing director Eddie Hearn. "It has remained Europe's most prestigious title and 2011 will see the event reach its tenth year. We plan something very special for Poker Million X and want to give the poker playing public a real shot at the million."
Hearn added: "What a year it has been for Gus Hansen - he has re-ignited himself on the poker scene and produced a flawless display from start to finish. No one deserved it more than Gus and I'm delighted to have such a high profile winner to defend their title in next year's anniversary event."
You can rail all the biggest games online as well as making the most of a $100,000 first depositors freeroll, at Full Tilt Poker.