Helena Brett Wins Betfred Ladies Tour Grand Final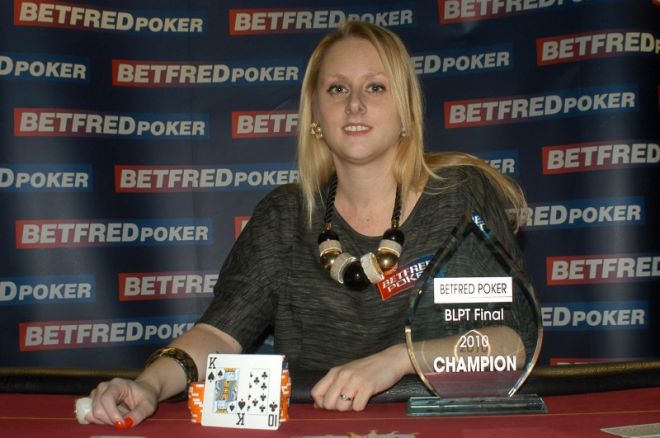 Helena Brett is the new queen of Britain's card rooms after securing a £20,000 sponsorship package for 2011 by winning the Grand Final of the Betfred Ladies' Poker Tour.The 31-year-old from Staffordshire, who works as the head of commercial activity for a charity, beat Raine Hilson heads-up at London's Western Club in her first full year competing in the series.
One of 10 players to contest the Grand Final, Helena had qualified in July by winning the Northampton leg of the tour, the third of seven live heats. She proved she was a thoroughly deserved champion by conquering a strong field to capture the lucrative prize on offer.After the finalists had been whittled down to three, Helena, Raine and Karen Walton then played for two-and-a-quarter hours before Karen was eliminated in third position.
At the start of the heads-up Helena was the short stack but she doubled up thanks to trip queens before Raine hit back when her pocket threes held up.
Two pair (fives and sixes) put Helena in the driving seat again when Raine had a busted flush draw and in the next hand it was all over. Raine went all in with 10-3 versus K-10 and when the board provided no help for either player, Helena was crowned the champion.
"It felt a bit surreal to win because I never expected to, but I'm absolutely buzzing," said Helena, who was the 9/2 second favourite with Betfred to win the final.
"I'm the sort of player who never looks too far ahead because I take each decision as it comes and while it was a complete surprise to win, I was really excited. When the game started I knew who my stronger rivals were and my first target was to get to the last five. Fortunately one or two of those players went out early and my luck held up."
Helena is now eyeing some of the leading poker events in Britain and Europe as she looks forward to being a Betfred-sponsored poker player for 2011 with £20,000 at her disposal.
"I'd really like to play in the Irish Open and the Women's World Open, in which Helen Firth, my predecessor as champion, finished second this year," said Helena. "I also want to compete in some events on the continent and around the UK to make the most of what is a fantastic opportunity."
Betfred boss Fred Done hailed Helena as a worthy winner and a player who will be an excellent representative of his brand during 2011.
"I'm delighted for Helena because she proved throughout this year's Betfred Ladies' Poker Tour that she is an extremely talented player with lots of potential," said Fred. "That was obvious from the excellent results she achieved even before the final, not just her Northampton victory but two other top-four finishes.
"I know she will be a terrific ambassador for Betfred Poker in card rooms everywhere and I wish her the very best of luck over the next 12 months. I'm sure this is only the beginning of her success at the poker table."
Betfred Ladies' Poker Tour Grand Final finishing order:
1 Helena Brett (winner of Northampton leg)
2 Raine Hilson (winner of Maidenhead leg)
3 Karen Walton (winner of second online play-off)
4 Diane Ambler (winner of first Leeds leg)
5 Lorraine Bogue (winner of Birmingham leg)
6 Rita Gilroy (winner of London leg)
7 Debbie Heard (winner of first online play-off)
8 Louise Atkinson (winner of Sheffield leg)
9 Teresa Kitson (winner of leaderboard for most consistent non-winner)
10 Lorraine Firth (winner of second Leeds leg)
Win a seat to the 3 Lander Poker Tour in Vienna next week in our exclusive €3000 Freeroll on Everest Poker.