Grosvenor UK Poker Tour 2011 Announced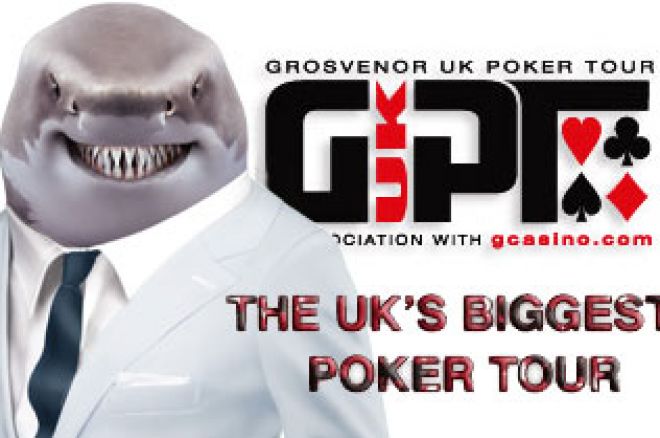 As the 2010 Grosvenor UK Poker Tour draws to a close, next year's streamlined series of poker festivals is already on the horizon. Each month will see one of the country's most popular Grosvenor or G Casinos host either a £1,000 Main Event as part of a GUKPT leg, or, from May to June, a double venue Summer Series. The London leg in March is an exception, with its Main Event having a buy-in of £1,500, and the 2011 Grand Final returns to the capital to see the year out with a deeper-stacked £2,500 Main Event. In all, 13 different venues will crown champions in 2011, award millions of pounds in prize money and set the leaderboard challenge.
New For 2011
The new GUKPT will have a huge £200,000 of added value, including an even more rewarding points-based leaderboard, with £75,000 allocated for the most successful players of the tour over the whole year. Points will be awarded to the top finishers in every Main and side event dependant on the number of entrants, buy-in and finishing position, and will be accumulated throughout the year with the standings being updated on www.gukpt.com. There will be more innovation for 2011, bringing individual added value to each leg of the GUKPT; details coming soon…
GUKPT to Cross the Irish Channel
In the Autumn of 2011, for the first time, a leg of the GUKPT will be hosted in Ireland. Long attracting a wide variety of players both locally and from further afield, the tour will now bring the professionally-run deep-stacked tournaments which have become the staple of the UK's live poker circuit to one of the best places to play the game. The Irish poker scene has been growing year on year and there is no shortage of talented players waiting to give the GUKPT regulars a run for their money.
GUKPT 2011 Provisional Schedule
January 24th - 30th (Main event: £1,000) Manchester
March 14th -20th (Main event: £1,500) London Victoria
April 25th - 1st May (Main event: £1,000) Walsall
May 12th - 15th Summer series: Brighton & Dundee
June 9th - 12th Summer series: Bolton & Plymouth
July 7th - 10th Summer series: Sheffield & Southampton
August 15th - 21st (Main event: £1,000) Luton
September - Ireland (Main event) TBC
October 10th -16th (Main event: £1,000) Coventry
November 7th - 13th (Main event: £1,000) Blackpool
November 21st - 4th December (Grand final: £2,500), Plus World Heads Up Championship (£2,000) & Champion of Champions, London Victoria
Qualify for all the future legs of the Grosvenor UK Poker Tour and do it with our free £11 and £55 tokens, exclusive to PokerNews, at BlueSquare Poker.