DTD Announce Next Grand Prix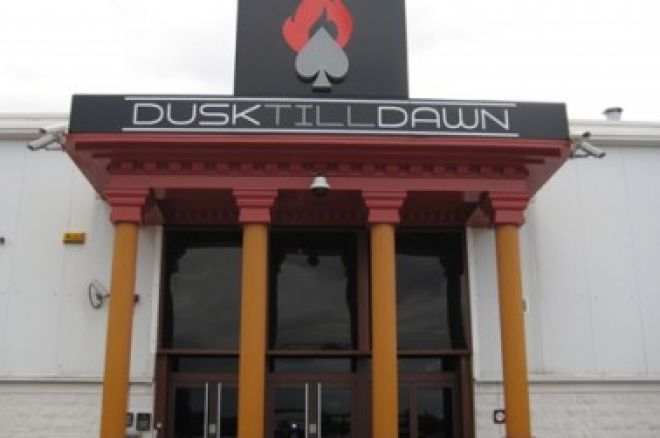 Following on from October's record breaking event, Dusk Till Dawn have announced the details of their next Grand Prix event. This time round they look like they wont be attempting to break their own record, just yet but have increased the buy-in to €115.
Day 1a 1pm Friday 21st January 2011 (cap 405)
Day 1b 1pm Saturday 22nd January 2011 (cap 405)
Day 2 1pm Sunday 23rd January 2011
Prize Money €80,000 GTD / 800 Runners
1st prize estimated at €23,000
Prize money will be paid into players online accounts
Cap 810
NO alternates or late entries
Structure 10,000 chips, 40 minute clock, all tables dealt 9 handed
Direct Buy in €100 + €15
Direct buy-in will be available this week, and only through Dusk Till Dawn's Online Poker Room
Live Poker Director, Simon Trumper, commented:
"We are announcing the date well in advance so players that prefer to play on Friday have time to make the necessary work arrangements. The Grand Prix is about giving players, especially those with a limited poker bankroll, the opportunity to win a big prize for a modest outlay. We surveyed the players at our previous Grand Prix event, and 82% of them ticked 'prize pool' as their main reason for playing. Therefore, we decided to increase the buy-in but still kept it within affordable limits. Our Customer Support logs show that we could have achieved a field of over 1400 players, so hopefully with this much notice, nobody will be left disappointed this time round. All tables will be dealt 9 handed from the start, as we felt dealing 10 handed for the first few levels detracted from the player experience. We were of course tempted to try and beat our 900 record, but we think it's wise to see how this one goes first!"
Get a free $50 bankroll + month at PokerNews Strategy and you don't even need to make a deposit, courtesy of PokerNews and PartyPoker.