David Johnson Wins GUKPT Blackpool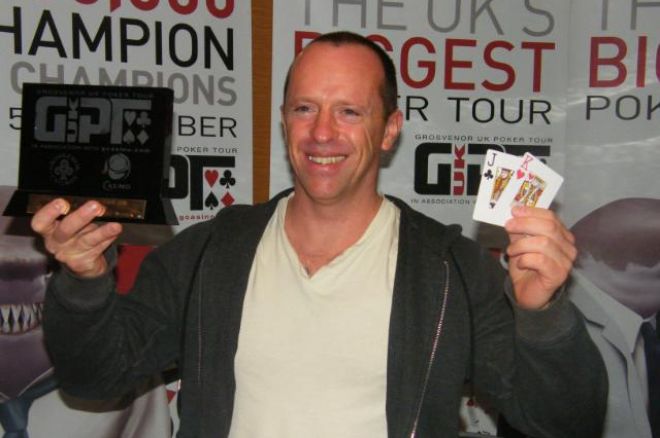 The 8th leg of the 2010 GUKPT, the penultimate of this year's tour, brought an extra buzz to the always-popular G Casino at the Sandcastle in Blackpool, with hundreds of players trying their luck in both the £1,000 Main Event and nine side tournaments awarding more than £465,000 in prize money over the full festival week.
This was a poker series of extremes, from the large field sizes competing over the £100 No Limit Hold'em freezeouts (176 and 140) to the very short amount of time it took to crown the Main Event winner on the third day. Tables were turned, in more ways than one, as the winner of the Main Event went on to earn enough points to propel him aboveAlli Mallu's 388 - to the top of the GUKPT Leaderboard and into serious contention for the £20,000 first prize which comes with the GUKPT Player of the Year title!
That winner was David Johnson, the last to take his seat for Day Three, and the last player standing after the swift final battle had sent nine others to the rail. He took home £67,750 after besting a field of 246, including tough heads up opposition in the form of Richard 'Strummer9' Herbert. A succession of big hands ran into bigger, with few deck-related upsets to stop the steady stream of finalists to the cash desk. Kevin Parkes was the first to be eliminated, running into Andy Bradshaw's pocket Queens, while the same hand proved deadly rather than helpful to Lee Taylor soon thereafter. Ron "Vinnie" Musson was Taylor's eliminator, his AK bumping him up to chip leader, outstripping Herbert, Bradshaw and start-of-day favourite Jack Ellwood.
Ellwood never found the momentum to regain the lead, instead standing by as Todd Wood ran Tens into Aces in 8th place, and Rob Boon's big slick failed to outdraw Musson's pocket Jacks. The final table was suddenly short-handed and it looked like the dinner break might be a permanent affair if they kept up the pace. As it was, just three players still had (pretty even) chips at the break, all having passed the million-chip mark. Johnson busted Andy Bradshaw with pocket Kings, and Herbert took out a dwindled Ellwood with Queens. Dylan Randles, the start-of-day short stack, finally lost a crucial all-in, moving in with A-4 and running into Musson's pocket Jacks – his £17,850 prize money a reward for his tenacious hold on his tournament life throughout Day Three.
Three-way action saw leader Richard Herbert pull even further away from his pair of opponents, taking a chunk from Vinnie Musson before finishing him off with pocket Sevens. However, despite a near two to one chip lead heads up he was not able to finish the final battle ahead. Less than half an hour later, a big shove (uncalled) from David Johnson had turned the tables giving him the chip advantage when both stacks went in for the final time. Johnson had flopped top pair vs. Herbert's second pair and held to secure what must be one of the GUKPT's swiftest ever final table victories. To glimpse the action as it happened, check out the live blog.
There is only the Grand Final (London, 18th - 28th November) standing between David Johnson (with 441 GUKPT Ranking Points) and the Player of the Year title – he's cashed this year more times than any other player, but this win represented the boost he needed to jump above Mallu, Neil Channing, and Andrew Purser, who had a phenomenal week here in Blackpool himself, winning tournaments in two disciplines. In less than a month the final GUKPT leg, with its £2,500 finale, will see another full schedule of events as hotly contested as any this year.
| | | |
| --- | --- | --- |
| 1st | David Johnson | £67,750 |
| 2nd | Richard Herbert | £44,900 |
| 3rd | Ronald Musson | £29,500 |
| 4th | Dylan Randles | £17,850 |
| 5th | Jack Ellwood | £13,300 |
| 6th | Andrew Bradshaw | £10,800 |
| 7th | Robert Boon | £8,350 |
| 8th | Ryan Wood | £6,750 |
| 9th | Lee Taylor | £4,900 |
Image courtesy of aworldofpoker.com
Qualify for the Grosvenor UK Poker Tour Grand Final using our free £11 & £55 tokens at Blue Square Poker.