Catman's Column -Partouche Poker Final, Vanessa Selbst & the Schoolboy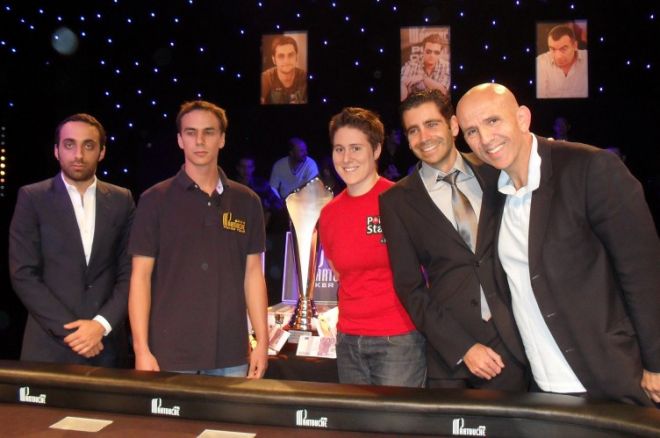 Catman here, on tilt after watching the sensational Pokerstars Pro, Vanessa 'The Professor' Selbst kick ass in the delicious South of France. Combine a trip to Cannes with €5.68 million poker game, and you are looking at a Bugatti Byron on crack. Of course that last sentence does not make sense, but poker is not about sense, and a young Frenchman named Raphael Kroll might just be thinking that now. If you are not a fan of France, please read further.
Partouche bosses Jean Jacques Ichai and Maxime Maquelier, had spotted the fact, that I am a red hot poker commentator, so I was treated to two magical trips to orate on The Final of The Partouche Poker Tour, Season 3. The €8,500 buy in event, which played down to the final table of nine in September returned to the Palm Beach Casino in Cannes at the weekend, 764 runners, and 8 left for the final. I took with me poker pro James Browning to cover all the analytical/math crap. This year's event saw the baby throw everything out of the pram, with a finalist disqualified and a heads up that proved composure is as important as playing the odds.
After a rancid trip on Sleazy jet, I arrived to bathe in the stench of glamour, that is the Partouche Palm Beach Casino, Cannes. I was met by Maxi, the Capo di tutti capi, "Have you heard the news," exclaimed Maxi, I shuddered with the thought he was about to tell me the 5 Star Restaurant was closed. " I have disqualified one of the players," Maxi exclaimed. With a sharp sigh of relief from myself, our host Jean Jacques Ichai led us to heaven, our dining table in the opulent Palm Beach Casino restaurant. Please google the booted player, Ali Tekintamgac and make your own decisions. Partouche did what they believe correct to protect the integrity of the final in a very bold move.
VIDEO – Catman has a chat with Vanessa Professor Selbst
With one free day, we hit the Cannes tarmac for some rock and fecking roll. First lunch at La Potiniere 13 Square Meimee, French cooking at it's best, and the price for a meal is less than a starter at Ramsay's piss poor offerings. If you are taking the Girlfriend, Boyfriend, Mistress of Misses, you will not fail in love, it's simple, take them shopping, lol. High Stakes: The Croisette and its beachfront shops, caters for those having earned a million last year. Un Robe or dress costs €3-€6,000, a Hermes Alligator jacket is €69,000 for the babes and €79,000 for a billionaire who wants to look like a right ****. Mid stakes: Rue d'Antibes, one huge long wet flop of some of the sexiest shops in the world. Check out 'God Save The Queen' and 'La Perla,' Un Robe here is €200 /€500 or €2,000, bargaining is all about having Les Ballons. Next, my old mucker Michael drove over in his Bentley Convertible from his home in Monaco, so that we could spend the next 4 hours in a restaurant chilling. Alas, the tight git, would not lend me the car! Next a quick bath and another 4 hours savouring The Partouche Palm Beach casino restaurant experience again, Vive la France. Best that for a relaxing day. The UK has no idea how to entertain its guests, all in the casino industry should take an educational trip to the Palm Beach and Cannes. But who would listen?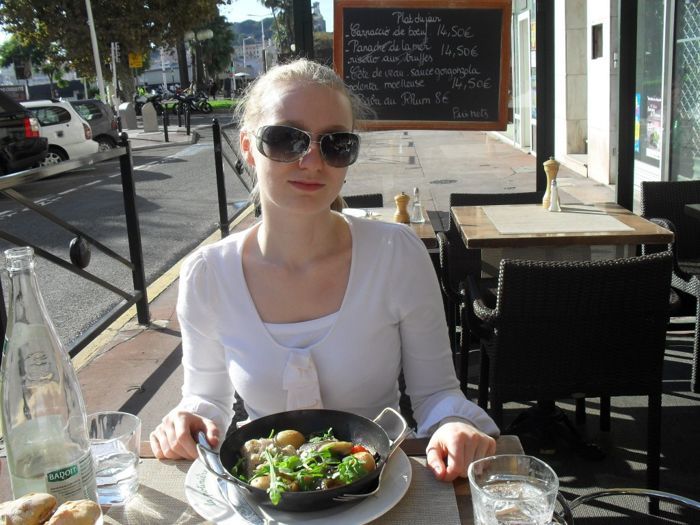 James Browning, myself and soon to be sponsored, recreational pro Catgirl, are back at the Casino to experience some of the most exciting poker we have ever seen. The 8-player battle commenced, our money was on Pokerstars Pro Vanessa Professor Selbst crushing this table, like you do a snail and then see all the juice run out. This final table was full of deserving victor's, Egyptian Ibrahim Raouf a hilarious alleged billionaire who everyone loved, bluff shipped 4 million chips to Vanessa, which was a nice little earner for her. Michael Etelepera, a dynamic Fin, who looked like Dolph Lungren, was just shit unlucky the whole game. Fabris Soulier, a French Poker Icon, similar in stature to Cantona, played with passion and a tilt that took 3rd place for €500,000. After 5 hours or so the table is whittled down to the final two players and play was to commence the next day.
In the Red corner, American Pokerstars Pro, Vanessa 'Professor' Selbst. Vanessa is on a year out from Yale University, she is Executive Produce and mentor at Deuces cracked, WSOP bracelet holder and winner of Pokerstars NAPT. May I continue, I flaming love this woman, she is my Goddess. I stood by her at the EPT High Rollers event in London, both Andrew Feldman (who was playing) and I quivered at her omnipresent table image and style. Her table presence is simply awesome ( Americanism).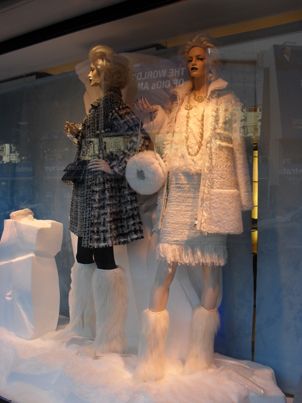 Vanessa had run very hot at the Partouche Poker Tour Final, but you can't win on skill alone, or can you?
Her opponent in the blue corner, a quintessential Frenchman Raphael 'The Schoolboy' Kroll. Young super charming dude, who had played this Partouche Poker Tour and the final table to perfection. Raphael was dynamic, statuesque and had a fantastic poker face and posture while playing in a hand, whilst we did note Vanessa stressed twice. Everyone wanted Raphael to win, this kids lifetimes earning were €4,000, whilst Vanessa Selbst was on near €1,000,000. Raphael was then around the 43,000-ranked player in the world and Vanessa Selbst then around the 287 mark. But stats do lie, and this kid did have a chance if he held it together and played just like the way he had prior to the heads up.
Prior to kick off I pop out onto the Palm Beach terrace for some warm air and to gaze at the sun glistening on the harbours blue sea (romantic eh). I bump into a group of American Bro's and sisters.
I chatted to Andrew Selbst, Vanessa's brother, her partner and the Yale railbirds. Vanessa had much love backing her.
I took a breath and sat down behind the TV commentary box with The Catgirl and James, all looking forward to ; The Epic Battle: The Professor verses the Schoolboy
If the Schoolboy, could hold his previous composure and form, there was a 37.333% chance of an upset. The Schoolboy raises the first pot and takes it down. Vanessa announces with severe authority, "Yes, there will be a lot of blind stealing.' Possibly a harmless bit of chat, but James and I viewed it as a strict warning, almost a verbal declaration of war. Kroll takes down the next three pots in this David and Goliath game, he gains his confidence it seems, now what started as a 4 to 1 chip lead, is almost down to 2 to 1 for Vanessa. Hand 5, Vanessa on the button raises, Kroll 3 bets, Vanessa 4 bets and Kroll announces 'Tapis,' All in. Vanessa insta calls and Schoolboy announces "Oh Shit." This action is for a €500,000 prize money difference, a very serious moment, Kroll shows K6 Off and Vanessa takes down €1,300,000 prize money with her Queens.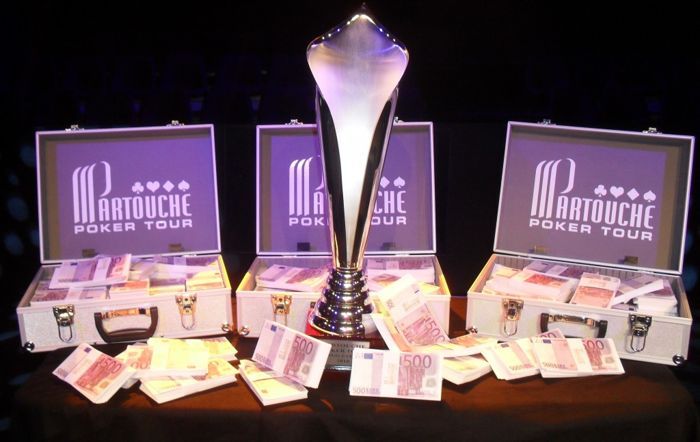 Did he fall or was he pushed, is the question I ask you. For I believe Vanessa took him to the edge of the mountain and kicked his ass right off. Think a little longer if you will, this action was for the price of two New Bentley Convertibles, King Fecking 6, what? That aside, I went and paid homage to the great runner up, who had played grade A poker and was now lavishing in being a Dollar Millionaire (€800,000), now 600th in the all time money list.
On the subject of Vanessa Selbst – 2 Words – Fecking Brilliant !!!!!
On the subject of French Hospitality, Palm Beach Casino food and Partouche Poker –2 Words – Fecking Brilliant !!!
Your honour, I rest my case.
Love, Peace and Great Food
Catman