Brian Martin Wins APAT European Amateur Poker Championships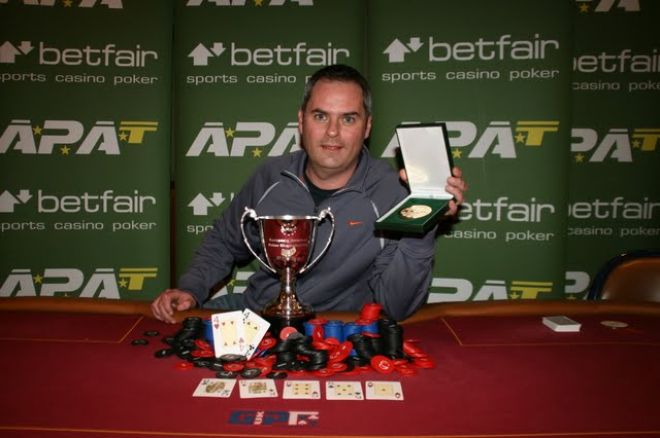 Over the weekend APAT held the latest event in it's fourth season, sponsored by Betfair, with the European Amateur Poker Championships held at the G Casino, Coventry consisting of 150 runners playing to win £3,000 as part of a £11,250 prize pool.
Courtesy of Betfair the winner of the Championship wins an entry to a GUKPT main event as part of an overall sponsorship package where APAT members have the chance to win thirty three seats to GUKPT main events and twenty three seats to APAT Professional League tournaments. In addition, each of the season's seventy five amateur, professional and online tournaments are run completely registration free for players.
In addition, the winners of the Online and National Amateur Rankings will join the 17 Amateur Champions from season four and the player with the most points finishes across Amateur and Online events, to compete in the APAT Champions Final, to play for a second APAT £20,000 sponsorship package in 2011.
Brian Martin became the APAT European Amateur Poker Champion 2010 winning £3,000 and a GUKPT Main Event seat. In the £250 Pot Limit Hold Em Professional series event, Dominic Rossokh was the winner and the Seasons Professional League Rankings were won by Stephen Boyd.
APAT now moves to the final National Championship of Season Four with the Southern European Amateur Poker Championships held in Spain in mid January. Details of how to play this event and free membership of APAT can be found at www.apat.com.
1st Brian Martin £3,000
2nd Darren Shallis £1,700
3rd Rupinder Bedi £1,100
4th Paul Rider £600
5th Stuart Oliver £600
6th Andrew Duncan £600
7th Rob Swindells £600
8th Gary Motson £600
9th Thomas Ault £600
Speaking of big live poker events, there is still time to qualify for tonight's exclusive €3,000 3 Lander Poker Tour Freeroll on Everest Poker. Just 25 Summit Points are needed to play in this freeroll to win a seat in the €500,000 Guaranteed Event in Vienna next month.