Tod Wood Wins APAT English Amateur Poker Championships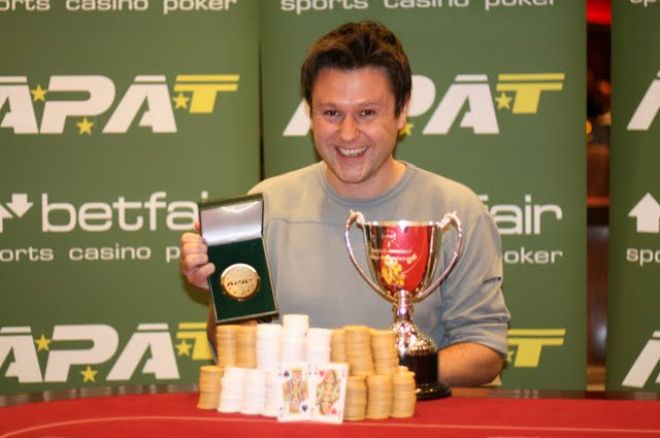 176 runners battled it out at the weekend to win a share of the £13,200 prize pool at the G casino in Luton. They were playing the latest event in the APATs fourth season, The English Amateur Poker Championships.
As well as the £3,300 first prize the tournament winner also wins a seat at the GUKPT main event courtesy of Betfair.
At the end of day one there were 24 players remaining three of which were APAT National Champions. Day two saw Tod Wood become a big chip leader after knocking out two players; the first was Brian Yates who lost with Kings against queens and then Jeldon Fernandes. It was soon time for the final table which looked like this:
1 Gary Haselgrove (Aylesbury) 249,000
2 Joe Legge (Birmingham) 114,000
3 Ian Burnett (Haworth) 216,000
4 Tod Wood (Birmingham) 412,000
5 Brett Pinder (Nottingham) 83,000
6 Paul Petcher (Leicester) 172,000
7 Colin McCarthy (Norfolk) 155,000
8 Phillip Mildon (Brighton) 96,000
9 James Edwards (Wolverhampton) 88,000
10 Michael Martin (Richmond) 151,000
Brett Pinder was the first player out who came up against Tod Woods Queens while holding Jacks. Next out was Phillip Mildon who was also knocked out by Tod Wood who now had a very dominating chip lead.
Gary Haselgrove was next to fall foul of Wood when his Jacks were beaten by Woods King-Queen of spades. Paul Petcher might have known he was to be next out when he got all in against Tod Wood, his King-Ten didn't hold up against Woods Ace-Seven sending him to the rail in 7th place.
I think everyone must have been surprised when the next player to out wasn't because of Tod Wood, Joe Legge left the game in 6th place after losing a hand to James Edwards. Ian Burnett then took care of Michael Martin sending him home in 5th position when his Jacks beat Martins Ace-Four.
The playing who finished 4th was James Edwards when he ran into pocket kings while holding sevens. Wood was to ride a wave of skill and luck to the end first eliminating Colin McCarthy when both players were all in on their blinds McCarthy was holding Kings vs. Woods Jack-Eight, Woods hit two pair on the flop and McCarthy didn't improve sending him out in 3rd place.
Heads up Wood also had a little luck on his side winning a race against Burnett with his King-Queen against Burnett's pocket Jacks, a queen fell on the river making Tod Wood the APAT English Amateur Poker Champion 2010, winning himself the £3,300 top prize and a seat to the GUKPT main event courtesy of Betfair.
APAT now moves to the European Amateur Poker Championship at the G Casino Coventry at the end of November.
Final Table Results:
1st Tod Wood £3,300
2nd Ian Burnett £2,100
3rd Colin McCarthy £1,200
4th James Edwards £600
5th Michael Martin £600
6th Joe Legge £600
7th Paul Petcher £600
8th Gary Haselgrove £600
9th Philip Mildon £600
10th Brett Pinder £600
Qualify for the next leg of the APAT tour or buy in direct only at BetFair Poker.