WSOPE Heads Up Match Ends in Stalemate, Main Event Day 1a Update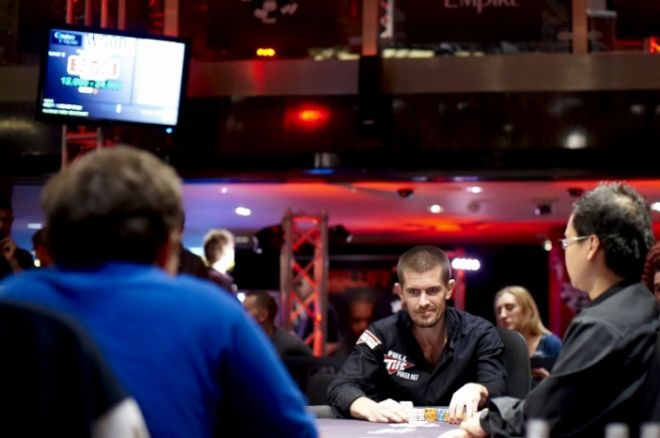 If you logged on this morning expecting to see the result of the £10,350 Heads Up event at the WSOPE think again. After a gruelling 12 our heads up session we still don't have a result as both finalists, Gus Hansen and Jim Collopy, have won a round each and have paused the action so they can play the WSOPE Main Event.
Both finalists have agreed to meet up at the Empire at noon and to more or less play the heads up match by ear so they can also include the main event in their plans. Of the two, Hansen looked much the more comfortable, methodically beating Collopy for his first win and only losing the second after a series of outdraws. It will be interesting to see what impact the break will have pyschologicaly on both men.
You can find out today from noon via our Live Updates.
Elsewhere in the main event, 137 turned up for day 1a and London based Frenchman Nicholas Levi is the man to beat with 153,850 chips. The small matter of poker aside, all eyes were on Leicester Square as it was time for the annual Phil Hellmuth entrance. We had heard rumours that he was going with a Lady GaGa theme and were all pretty relieved to see that would materialise as him being accompanied by 11 models dressed as the star, rather than him having a go himself.
In true Hellmuth trying to be cool but not quite getting it right style, his entrance (complete with marching band) as usual served to create bemusement and annoyance for those playing poker, in particular the four semi finalists in the heads up event whom he marched right past while they were playing. Check out our video to see the huge reaction from his army of fans:
Hellmuth bust a couple of hours later.
78 players made it through to day 2, the top ten of which look like this:
Nicolas Levi (153850)
Adam Fletcher (136025)
Bruno Fitoussi (120250)
Faraz Jaka (120125)
Matthew Waxman (118000)
Guillaume Gignac (109650)
Leo Margets (109000)
Simon Persson (103600)
Nicholas Schulman (101500)
Remy Biechel (94550)
We are expecting a much bigger turnout today, as is usually the case with events like these, so stay tuned to our Live Updates to get all the action from 12.00pm.
We have over $16,000 in freerolls in the next seven days alone - check out our freeroll listings for more information