Satellites Begin for Hybrid Structure $100,000 Poker Cup in Marrakech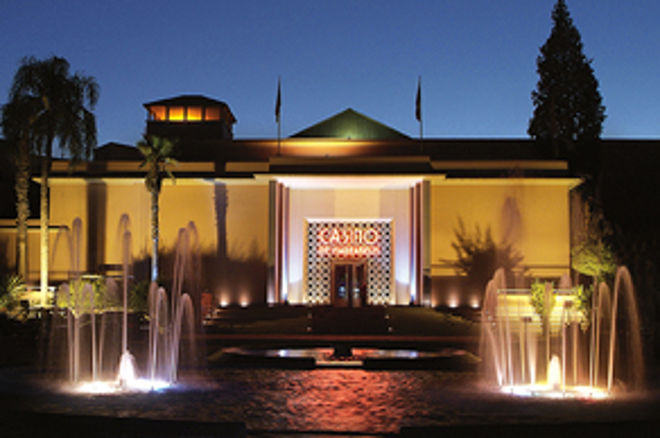 The Es Saadi Casino in beautiful Marrakech, Morocco will be hosting one of the most expensive live tournaments in the history of poker Friday October 8th through Sunday October 10th. Despite the huge buy-in, anyone can make it in thanks to a series of satellites, starting for as little as 45€ running September 22nd to October 7th live at the casino. The PokerNews Live Reporting team will be on hand to provide full live coverage of all the action which is also be recorded for television by event partner Selbo Productions of Florida who will produce a 5-hour production to be aired in December 2010.
Roger 'terminator' Hairabedian: '10 Famous Players will put up $100,000 each!'
PokerNews met up in Marrakech with the driving force behind this unique event, French poker pro Roger 'terminator' Hairabedian who set it up with support from the Bauchet family, owners of Es Saadi Resort & Casino. Hairabedian's ambition: crush forty players to victory and win a massive 4 Million dollar prize pool. His motto: "anything can happen with poker". His scoop: "ten very famous American poker players" will be playing in the event.
$100,000 Poker Cup: David Benyamine & Michael Mizrachi Confirmed

With a $100,000 buy-in, "The Poker Cup" will gather forty of the world's top players, many of them having already confirmed their attendence. "This unique hybrid structure event will be covered by a TV channel with 40 million viewers", Hairabedian explained. Amongst the famous names which are scheduled to appear: Main Event WSOP 2010 finalist Michael Mizrachi and french high roller David Benyamine, who recently appeared at Casino Es Saadi for the Marrakech Poker Open XVI. "This will be one of the biggest tournaments ever worldwide ... this tournament will for sure have at least twenty players" said a confident Hairabedian, who will also be appearing in the $100,000 buy-in hybrid event.
Unique Hybrid Tournament Structure - Final table cash out!
Mixing shootout tournament play and high stakes cash game, players will start with a single $100,000 stack. No player can 'De-Stack' unless he makes it to final table by being one of two survivors from each preliminary table. The players will be divided into 5 tables of 8 players. There will be a random draw for poker pros and another random draw for the rich and famous non-pros, assuring at least two poker pros per table.
Competing players can unload part or all of their stack when they make it to final table. Here's how it works: $100,000 gets you 100,000 tournament chips. If you make it to final table you can cash back those 100,000 chips and receive $100,000 in cash. This formula, unseen before, dares high rollers to let it ride and allows anyone who made it into the tournament via one of many live satellites, to cash out up to $100K!
As for who will be the poker pros enlisted, lips are tightly sealed for the moment. "We do have a list of ten very famous American players who will be present" announced Hairabedian. What names are on that list? Will Phil Ivey or Tom Dwan join this exclusive ultra-high roller event? Will they take the short trip to Northern Africa as part as their current European poker tour? Stay tuned to PokerNews for the latest on Marrakech tournament confirmations.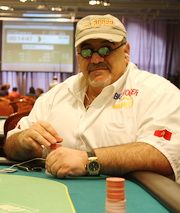 "I can't think of a true amateur putting out $100,000 to face some of the world's best players" admits 'Big Roger' Hairabedian who nevertheless expects to attract several wealthy businessmen to this open event who will be looking to follow Egyptian mogul Ibrahim Raouf who recently surprised the poker world by making it to the Partouche Final in Cannes.
France's best live tournament player of 2009 is currently enjoying World Series of Poker Europe events in London after which he'll join the exclusive few who put up the $100K buy-in at the televised hybrid-structured event in Marrakech.
Poker Cup Marrakech $100,000 Satellites

But all players have a chance to join the Poker elite through a series of affordably priced live satellites. Live satellites run September 22nd to October 7th at Casino Es Saadi. Buy-ins start at only 45 Euros. Several amateurs could make it in for their shot at an estimated prizepool of $4,000,000, or they can make the final and walk away with up to $100,000 in cash!
| | | | |
| --- | --- | --- | --- |
| Date | Heure | Buy-in | Type |
| 22 Sept | 21h | 45€ | Rebuys (1h30) + 2x Add-on |
| 23 Sept | 21h | 45€ | Rebuys (1h30) + 2x Add-on |
| 24 Sept | 18h | 45€ | Rebuys (1h30) + 2x Add-on |
| 24 Sept | 22h | 450€ | Re-entry |
| 25 Sept | 18h | 45€ | Rebuys (1h30) + 2x Add-on |
| 25 Sept | 22h | 450€ | Re-entry |
| 26 Sept | 18h | 45€ | Rebuys (1h30) + 2x Add-on |
| 27 Sept | 21h | 45€ | Rebuys (1h30) + 2x Add-on |
| 28 Sept | 18h | 45€ | Rebuys (1h30) + 2x Add-on |
| 29 Sept | 21h | 45€ | Rebuys (1h30) + 2x Add-on |
| 30 Sept | 21h | 45€ | Rebuys (1h30) + 2x Add-on |
| 1 Oct | 18h | 45€ | Rebuys (1h30) + 2x Add-on |
| 1 Oct | 22h | 45€ | Re-entry |
| 2 Oct | 18h | 45€ | Rebuys (1h30) + 2x Add-on |
| 2 Oct | 22h | 450€ | Re-entry |
| 3 Oct | 18h | 45€ | Rebuys (1h30) + 2x Add-on |
| 4 Oct | 21h | 45€ | Rebuys (1h30) + 2x Add-on |
| 5 Oct | 21h | 45€ | Rebuys (1h30) + 2x Add-on |
| 6 Oct | 18h | 45€ | Rebuys (1h30) + 2x Add-on |
| 7 Oct | 14h | 450€ | Re-entry |
| 7 Oct21 | 4500€ | Re-entry | |